Wishing Star
January 28, 2013
*The character who says this monologue is named Kate. When she talks, you can hear pain in her voice. You can tell that she's been through some tough times.*


Have you ever heard about wishing on a star? I did. Biggest mistake of my life. Every night I'd go outside and wish on the same star. When I was little, I'd wish for a puppy or a new bike. As I got older, puppy's and bikes started turning into bigger things. To have enough food for me and my mom. For there to be enough money to buy me a bigger pair of shoes when my toes started to poke out the front. But the one wish I always asked for was for daddy to come back. He said that he'd never leave me and my mom. I remembered his deep voice. Everyday he would come home at 8:30 and call for me. "Katie-cat!" He would yell. He was the only one who would ever call me that. He would kiss my cheek and tell me to go to bed. It seemed like we had a perfect family. Then one night he started drinking. He wouldn't kiss me when he'd come home. I learned quick enough not to ask for one either. I would hide in the upstairs closet, trying hard not to listen to the sharp cries of pain from my mother being abused. I guess one day he was finally through with us. He disappeared entirely. No note, no "I'm sorry"s or even goodbye. He just left. Even though he had been hurting my mom, I still couldn't understand why he had left. I know I shouldn't have missed him, but I did. He left me with a big empty hole in my heart.
(Pauses)
That's when I'd wish for him on my wishing star. But slowly that star began to fade. Eventually it was gone. My little star had left me too. I took that as a sign that I never should've wished for my dad to come back. Because he never did.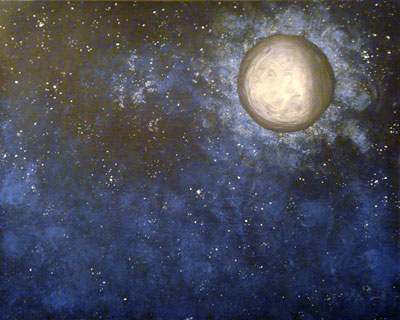 © Allison H., Vancouver, WA