Fluidity
October 15, 2012
Woman

There are men who tell me secret things. And "Shh. Make no mention of buildings constructed of broke bones." But maybe you know that. You're looking at me like I might just tear myself in two.

The mind is a frightful thing, a scary place. I try to keep the light off, but I dream up monsters and think that shedding light on what's really there couldn't be any worse. So I pull a chain, but it is worse and it's all the more real. You might not believe me, but the things in my head… I didn't dream them up.

Someone once told me that I carry the world on my shoulders. But it must have burrowed into my veins so it could flow to my brain because there's too much there. There's got to be some sort of maximum occupancy, right? So, one day, my skull will split and the world will just slop out like some foul pudding.

There are tangible things in this world that you can tie into neat, pretty little bows. But my thoughts are.. liquid. Liquid. And you can't tie those up and throw them away. But liquid can't be right because when I try to sake the thoughts out, it doesn't work. But when I go in the ocean and my ears get clogged I can always shake it out.

I still tried though. I think you know that. I shook, and I shook. But it felt like my thoughts were just bashing against my temples. So I thought they might need a little encouragement. I just hit the one side of my head once, soft really. But it didn't help. And I just wanted some quiet. Do you know that I've had a headache for fifteen years? So I hit a bit harder. But my mind was still pulsing. So maybe I just needed something to help.. and there was a wall. And the harder I hit, I felt something flow from my head. And my thoughts quieted and images slowed.

But I woke up and I couldn't move my arms. And you told me I had to stay here. Doc, all the white makes my thoughts feel hyperactive. And the men are chatty.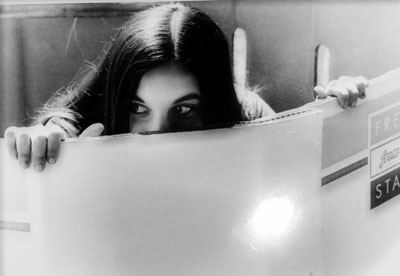 © Sarah S., Winter Park, FL