Nature vs Nurture
April 17, 2018
He is quiet, quiet – his lips never utter more than a single sound, but his mind is loud, and the thoughts that roam around his head are free, free and airy.
It had taken him so long to fall in love with his own head, and not necessarily with the dark hair that framed it; So long to embrace the sparks that brightened up his mind. It had taken the boy such heavy-hearted effort, an effort no one but he himself was able to acknowledge. Most would never be able to understand it; the most observant of man could've buried himself with a spoon into the boy's brains, tugged out any information he wanted to from his head, and still have trouble deciphering why Eden's self-loathing had continued for so long.
In front of him lay a crystal lake, wide enough that his eyes couldn't catch all of it without turning his head, and long enough that a single step forward was enough to bring the reflection of full body into view; clear enough that he could see the dead expression on his face. The boy hated this blank feeling. He craved the genuine, mind-boggling happiness that occurred only in little, sudden spurts whenever he drew. The same happiness he felt while tracing the tip of a paintbrush across a plain white canvas, hearing paint drip onto the floor; the same euphoria that filled him as he watched a blank sheet of paper come alive only a mere few hours later.
His drawings were a paradox. There was infinite motion and infinite life inside of their stillness. Eden sat down near the edge of the water, and slowly pressed his fingertips into the lake. He shut his eyes and let his body slump forward, relaxed and still, with his mouth agape, as if he were an oracle and the clear water of lake would whisper secrets to him about his future... He thought about his drawings, panned in scenes of bright orange forests, and turquoise colored, fast-paced rivers with energetic fish that cartwheeled out of the water to greet soaring bird-friends from above. Drawings of wide meadows that stretched out forever, with white tulips and dark roses that held hands and sang together until the wind joined them. Though the wind usually didn't stay with them long, he would dance with them while it did. He would lift his friends up into the air and spin them around until it was time to leave. Eden drew sketches of town-squares with skies of darkness and twinkling stars, with tiptoeing groups of children sneaking around from corner to corner with orange candles in their hands. They were giggling, but quietly, because the children, like Eden, knew they were not supposed to be out at this time. They were supposed to be in bed, peacefully asleep at the command of their parents—like Eden was supposed to be.
He was pushed out of his trance-like state at the sudden feeling of little fish nibbling on his hand, and he let out a slow but pleased sigh.
For hours, he would stare at his hands, his calloused and paint-covered fingertips. Callouses and stiff fingers were the least of worries. He had no concern about temporary bruises, they would heal eventually. Whenever he thought about his art, something fantastic happened inside of him, something invisible and loud was happening only inside of him, and no one else but he could feel it. A fantastic feeling that he didn't want to trade the world for, and he decided he wouldn't.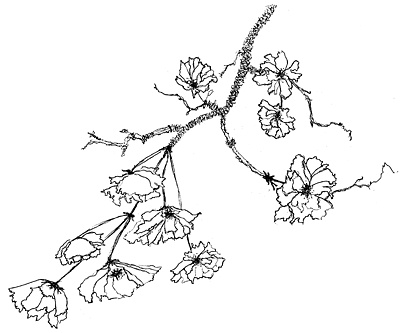 © Marybeth L., Hamilton, NY