Beautifully Cursed
March 19, 2018
I looked at myself in the mirror. It had been a long day searching for Tillah. My face was aging faster than ever. Only twenty-two and I appear to be sixty-four. It's been five long, slow, years. My stupidity engulfed me then, now i'm paying for it. I was obsessed with becoming a rich and feared king. My father passed not too long before my greed consumed me. All I wanted was to be just like him. There was only one problem, I was weak. No muscle, no strategy, I was nothing like my father.

I heard about this witch that could help me with my problems. She lived not too far up the forest from where my kingdom was. I took the three long journey on horseback to her little cottage in the woods.

Her cottage was old and run down. The wood was falling apart and you could see the bugs in the wood crawling around. I cautiously knocked on the door. It took her a few moments but she did open the door. She was a younger woman, about twenty. Her hair was a dark brown, almost black. Her eyes were a beautiful blue.

"What do you want King Unis." She glared at me and impatiently waited for an answer.

"I would like to be just like my father." She laughed and stepped out of the doorway to let me in.

"Okay I can do that." She led me over to a table that had weird colorful liquids in glass bottles. She opened a few and bottles and poured a few colors in. She grabbed an eyeball, a tongue, and a cows tail and threw it in the pot. A weird fog started to erupt from the black pot. She said some spell in another language and then handed me a cup. "Drink up King Unis." She smiled and to my surprise she didn't have rotten teeth. I drank the whole cup and set it down on the table. "It will take about a day for the potion to settle into your system. Goodbye Unis." With a wipe of her hand the door opened. I walked out pleased with what she had done.
The next day, shortly after I awoke, I rushed to see if the potion worked. I was horrified at what I saw. I looked exactly like my deceased father. That witch made me into my father. I was furious. I rode back up to her cottage but she was gone. All of her stuff was packed up and the cottage was bare.

The next five years I dedicated my life to finding her. I followed lead, after lead, but i ended up with nothing. I had her picture with me. Every time I looked at it I fell slowly more and more in love with her. I found myself searching for her for a different reason now.

One cool morning I decided to go on a walk. I was in a little town in Germany at the time. I wandered for about thirty minutes when i stumbled upon a shack. It was similar to the one that she led me into. I cautiously walked to the shacks door. Knock, knock, knock. My heart began to pound. The thought of seeing her face again after five years gave me butterflies in my stomach. From behind the door I could hear footsteps slowly come toward me. The door cracked open and a voice softly exited the shack.

"Hello?" It was her!

"Hi, I don't know if you remember me or not but you turned me into my father five years ago." The door opened wide and her beautiful face appeared from the darkness.

"Unis? What are you doing here?"

"I have been searching for you for years!" She smiled. Ugh her smile. It was so beautiful.

"Unis, I couldn't stop thinking about you. I tried to come back but the spirits wouldn't let me." She blushed and in that instant she ran out to me and jumped into my arms. As I was holding her I couldn't stop staring at her and then a warm pair of lips gently pressed themselves against mine. She pulled back and smiled even more. "Unis your face." I gently put her down and rushed inside the shack and grabbed a silver spoon. The reflection that my eyes saw made me tear up. I no longer looked like my father. I turned around and she was standing there.

"By the way i never caught your name." She smiled.

"It's Adela." I grabbed her and twirled her in a circle and kissed her lips gently. After that day Adela and I lived out or lives. We moved back to my kingdom and had three beautiful children. Adela continues to practice her magic and I am the most loved king in the history of Tortelina. Fight for what you believe in and if you work hard enough for it then it might happen.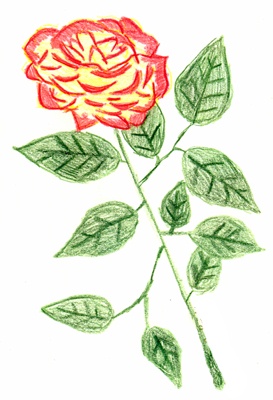 © Kelly Z., Niscayuna, NY