Chaos and Dreams
February 22, 2018
It was halfway through second period when the bombings started.
It started with a huge crash, coming from the other room. My teacher glanced up, almost in shock as the rest of the class began to scream. We were panicking.
"Everyone, under your desks!" he yelled. "We can wait it out."
I ducked under my desk and put my head in my hands. My hair was falling all over my face in a tangle, and I could feel sweat running down my back.
The thing about fear is that there are different types. There's the type that immobilizes you, trapping you without you realizing it. Then there's the type that comes out of the blue, and you feel your heart beating in your chest, and there's this realization that you'll never be OK again.
I was so focused on the floor, shaking and cracking as it was, that I barely saw what the other students were doing.  Everyone and everything else just faded away into the background.
Think of happy things
Step one on my father's master list of dealing with anxiety attacks.
I started thinking of that morning. When everything was as right as it could be in the world.
My father had hugged me and given me my lunch for the day. I kept insisting that he didn't need to get me anything, but he cared for me and my sister's 'quality time'. Ever since my mother died in the war, he's been trying to make up for it with little things. Lunch. Playtime. Painting. Watching movies, before the power went totally out. I loved my dad, but sometimes...it felt like another reminder. That no matter how much he loved me, my mother still died.
"Miranda." I shifted slightly under the seat to see Kire looking at me. Tears were streaming down her face, and her hands were shaking terribly.
"Do you think we're going to die?"
I shrugged, still mostly in shock. "At least I said 'I love you' to my dad earlier." I began to laugh hysterically. "And we don't have to do math homework."
"My mom and dad…" she stopped here, utterly choked up. It was a minute or two before she managed to find her voice. "They're divorced. Have been for a while, now. What if… I can't hug them both, and see them together, happy? I don't want to die. I don't want to…." she began steadily rocking, back and forth.
Another crash extruded a scream from Dylan, who then quickly clapped his hand over his mouth.
"OK, kids?"
We all turned, crossed between disbelief and terrified tears. Our math teacher, Mr. Lee, was talking in a cheerful tone of voice as if the sirens overhead were nothing, and the crashes and cracks in the wall were normal.
"Who can tell me….Uh…. Who George Washington was?"
"A dude who lived in a better world than us." muttered a kid near the wall. The room broke out with nervous laughs.
Seeing that cheering us up was useless, Mr. Lee began writing stuff down in his notebook. He always carried it around everywhere. It was weird. But in a good way, like when you see paint on someone's hand or scribbles on their arm. It was a battered up little thing, covered with bumps and coffee spills. No one knew what he wrote, but he always did it when he was sad, or disappointed in his students that wouldn't pay attention to math when there was a slightly more concerning war.
I don't remember when there wasn't a war, actually. I was born after the experiments started.
My mother told me about it before she left to fight them.
Dragons.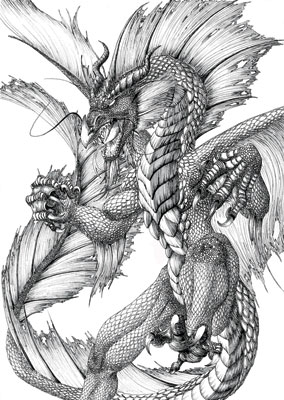 © Lauren R., Belmont, MI