The Outsider
December 20, 2017
They've been watching me, I know they have. It's because I didn't just look the other way when they did something that went too far. It's because I don't trust the system, and I never have. It's because I didn't ask how high when they told me to jump, and instead kept my feet firmly planted.
Was that so wrong of me? To not let myself become part of a brigade of mindless cattle? What were they trying to hide in the first place? I'm sick of not knowing, and I intend to find out, one way or another.

There aren't many places left in our city that aren't stuffed to the brim with the same nondescript excuses for buildings they paste every ten feet; consequentially, everyone knows of the place we call "The field of buried secrets". It lies on the outskirts of the grid, falling just outside the edge of the industrial district, and a towering chain link fence frosted with an excessive amount of barbed wire runs all across its front. When one stares down its ominous waves of amber grain, it's dead silent. Not even the filthy scavenger birds dare make a sound around it. And there, plastered on its face, is the real reason everyone steers clear of this place.
                             No Trespassing
                            Private Property

They put it there, that sign. Everyone knows it, without having to ask. Everyone also knows that those who don't heed its warning, have never come back.
But it's the only place where I can find answers, find out why they took my sister, find out who 'they' really are, so I'm going to have to risk it. I'm going to have to climb the fence and find out what's really out there. I can only hope that whatever I find won't be my end.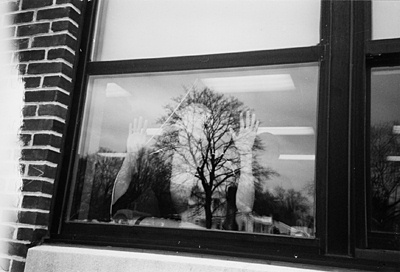 © Kaleigh W., Pompton Plains, NJ