my myth
March 31, 2009
God of the sky named "Fey" and his wife "Sakuma" decided that their eldest daughter Sakura should get married. Fey's anxiety decides to put up a competition, whoever finds the yellow glory blossom shall marry their beautiful daughter "Sakura". Sakura and her young sister Sache (known as the princess of seasons) asked permission if they could visit the planet Earth. But their parents feverishly disagreed, inarticulate and without listening to their parents, they snuck out. And as they flew down to Earth, their powers were forbidden lost. Sakura told Sache that she would want to be a human someday.

As the two sisters were walking, they saw a conspicuous village, and the sisters asked the people where they were. So the people said that they were in Komatsu, Japan. At the end of the village, Sakura and Sache went to explore the dazzled garden full of cherry blossoms. According to the passersby, these gorgeous cherry blossoms only bloom in March. One of those lonely yellow blossoms was found by Sakura. A hero that was mentioned and entitled well known throughout the village was named "Shuichi". Everyone in the village very much appraise and respect Shuichi because he always helped the people who were need. A coincidence came so suddenly between the two sisters and Shuichi. As Shuichi walked gallantly pass a pink cherry blossom tree, Shuichi wondered himself as if his eyes were playing tricks on him or was there a lonely yellow blossom that grown vividly amongst the pink blossoms. Gently as possible Shuichi plucked the yellow blossom from the delicate branch. Turning around so suddenly, face to face Shuichi and the two sisters meet. People believed that when two people whether they know each other or don't that finds a yellow blossom at the same time were be meant to be a couple. Amazedly looking into each others hands was the two identical yellow blossoms. Sakura gasped, could that be? First at first sight or was it some random coincidence? As if it's possible between an eternal moral saint and a human?

God Fey got indignantly mad of his two daughter's actions that they've snuck out with permission and gone for too long. So God Fey impatiently commended his trusted worthy servant "Kuwa" to do down to Earth to find Sakura and Sache. While for the time searching for his two daughters, cause of God Fey's disgruntled worries, Sakuma his wife was appalled and tried to calm Fey. Sakuma had a foreboding prediction that something will be obtained by Fey. A pandemonium thunder shocking struck the Earth with an explosion and unpleasantly ended the lives of the innocent human beings. God Fey yelled vile words with anger to both of his daughters, "why you two disobeyed me?" Do you know if those human beings found out that you two were saints, they would of killed you! Eventually after what Fey told his daughters is that the planet Earth was destroyed. Sakura told her father why punish the innocent humans just because I didn't listen to you and flew to Earth! And father please don't punish Sache, but punish me. I was the one that pulled her along with me and caused all of the trouble! By sacrificing, Sakura locked herself up in her father's eight dragon bronze pot. The pot was just used to punish whoever had done wrong and was used for a long while ago. God Fey remorse of what he did to the humans and now he's decided to create a new planet just like Earth to relieved his sin.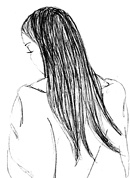 © Miranda B., Neosho, MO