Crimson Dunes
November 2, 2017

Walking back, you became the fourth set of tracks in the cooling crimson sands that make up this barren wasteland you now call your home. There were two sets of prints walking past you in the opposite direction, but only one preceding you on your way back; you completed the set. The footprints were distinctly different in size. You remember his seemingly inhumanly large feet, at least, compared to yours. His prints are wide, long and deep. You spaced out as you trekked, becoming lost in your thoughts.
Every day, two tracks going, and two tracks returning. Every night the gentle winds shift the dunes and conceal your trail,  and you start anew the next morning. You never worry; his tracks always tell you where to go. They invariably precede yours and persist through the shifting sands.
Deep in thought, you've become only the third set of tracks in the vermillion powder beneath your boots. You look behind you and see his tracks stray from the path. You hadn't realized you'd come this far. There he is, lying down on the side of a dune in the shadow of the setting sun. His helmet is by his side as he lies back against the cool dust. It is where he laid yesterday, and the day before that, and the week before that. His tracks remain, so he remains, but you are unsure of when he began lying there. You try to remember more, but stop at the twinge in your chest.
You keep walking.
You remember your path well. You may not have the best memory, but you always recall: two tracks going and two tracks returning. You look at the sky and take note of the off color, for this season anyways. You direct your gaze back down and see that you've wandered from the path again.  You look around in a slight panic before spotting footprints. You nod to yourself and sigh. You haphazardly stumble down the unstable slope and plop down in the powder with a satisfying poof. You resolve to take a breather. You mirror the maker of the first and third tracks, lying down along a dune, facing the setting sun which seems so much smaller here than it did before. You recall him looking so peaceful there, resting in the shade of the cardinal dunes with his helmet to his side. Your workload has practically doubled as of late; some quiescence would be much appreciated. You remove your helmet and rest like your father. As the winds blew, you and your tracks disappeared.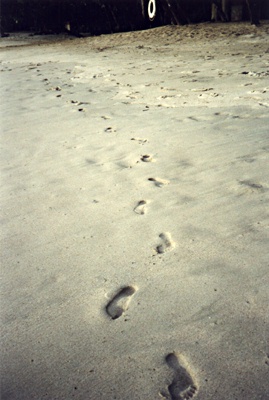 © April W., Rogersville, MO