Aliens
September 30, 2017
The two of us wears glasses, making us seem far out as if we were aliens coming just barely kissing the ground. As our spaceship lands, four eyes are better than two as if we say "take us to your leader". I walk and I hear a crunch, and a hard cracking thud right there and at that moment I knew what I had done. As if I lost the keys I mope around hoping to frantically find that missing treasure that someone had stole from me. I tried other keys that maybe just maybe, hoping to find the right alignment to the key and the door to success. My mom also wears glasses but she is in her own little universe drifting apart. And I am here all but to watch for myself and make my own destiny.

In time I know that I will return to that spaceship I say, as I find the pairs of glasses as I climb into the aircraft, forget me not earthings for I will return. I wave goodbye to my old ones and tell them to have a nice journey, and to git. I take a step back then all of a sudden I'm transported back up to space where the stars and galaxy come in to as one unit. I feel something in the palm of my hand, I have come to find the keys, that I thought that I had once lost but now they are found and unlocking more than ever to the secrets to outer space.

But not for long I stay in space knowing that I must touchdown, soon I grow tiredness of the wonders of space all the planets the galaxy and even more. I know where my home is and my home is with my friends and family back on Earth. Just as I walk down the line of my spaceship people soon glaring at it, I let people walk into my spacecraft. Many did not go but some had the audacity to climb and and tell the others of the wonders you can only dream of. I find my old glasses and say hello to the once washed out, colorless an eyesore of such things and realize Earth needs more help than I do.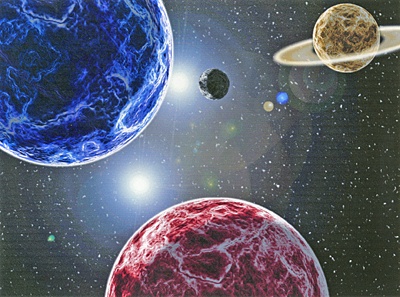 © Alex D., Phoenix, AZ