The Chase
June 9, 2017
On this cloudy, summer day not a ray of sunlight shined down on the little town Elliphont. Entering the town you see a large billboard stating: 231 people have survived this town. The first monument you spot is the last. Although it shows lovely, mowed grass, beautifully planted trees, great people, and a gorgeous view of the mountains heaping over a large pond, don't be fooled, if you're not careful this town can swallow you up.

Dakota and Oliver have lived together their whole lives. They've clicked since they were born, looking completely opposite of eachother, they have similar qualities. Growing up in this small town they don't think much of it's history. Dakota, being the younger of the two, has always looked up to Oliver and attempt to mimic what he does. Dakota and Oliver horse around every day. She never denies a fight, and always gets back up with the same spirit as she did going down. Oliver tries his hardest to walk along side her, and show her correct techniques of battle moves. However many tries it takes Dakota, Oliver always waits for her to master it. Down the street lives an older lady with bright blue eyes and dark red hair. Lined with freckles her face is covered, she doesn't show her face often around the town. With her long red hair, her parents only dreamt her name to be Ariel. A quiet girl, everyone was afraid of. All people living in the town would rapidly speed by her house, waiting for a scream or for her to come out after them. She was lonely, no friends, no siblings, no parents. She knew the history of the town, she had witnessed the terrors numerous times. Days turned into weeks, weeks turned into months, Oliver and Dakota decided to explore the unexplored, digging holes, bombarding the ground with countless rocks they found remains of people bones. Going blind into their investigation they realized where they were. Creeping away Ariel came out a shouted at them to go away. Running as fast and far as their legs could carry them they soon found themselves far into the woods. They begin freaking out, in panic they froze and tried to trace back their steps. Becoming deeper and deeper into the forest the sky was darkening. There appears to be smoke arising from a chimney, they run over. Scared and alone a strange guy allows them to enter his home. They sit and talk by the fire to shortly find out his name is Zumba. He greets them respectfully, brings them dumplings and a cup of water and offer them a place to sleep. Hopping into bed they sink in and rest their eyes to start travel again in the morning.


The next morning they wake up to breakfast in bed: orange juice, pancakes, with a side of fruit. Little do they know, Zumba has added an extra drop or two of hypnotizing poison. He convinces them to follow him, but as they started walking towards Zumba's car Ariel is waiting for them to come out.  Trembling, she offers to further care for the children and take them home. With great fury in Zumba's voice he tells her no and drives off with the children flopping around in the back seat. Ariel doesn't stop, she feels horrible for frightening Dakota and Oliver and feels it's her responsibility to fix it. When arriving at the final destination, she manages to snatch them before he gets a chance and starts running. Closely following behind them Zumba catches up, it becomes an inch worm race between car and legs.They make it to the edge of the forest where the sun blinds both of them. Zumba hurriedly runs into darkness and hisses at them. Ariel doesn't stop, she continues following the road til they enter the town. Everyone, quickly swarmed away from her and gasped when they realized what she had, the children. Ariel's feet moving quicker than sound abruptly stopped when reaching their house. She kicked, screamed, and pounded on the door; however, no one came out. Confused, she walked in screeching for help. They were alone, little kids, alone to fend for themselves. She felt sick to her stomach, quickly searching for a sign of where their parents are she comes across a note stating:

Little ones,
There has been a major accident, both of your parents have mistakenly killed each other at a shooting range, both unsure of what they were doing they pulled the trigger unsure of the operations of the gun. We shall provide you with shelter and food until you are able to on your own.

Xoxo,
Neighbors


Ariel was frightened, she immediately sought for help. No one faced her, no one helped. She took the children into custody for weeks before anyone questioned the children's disappearance. More and more people showed up on her doorstep, she was no longer the "town clown". While in search of their new home, Oliver, Dakota and Ariel became very close. Ariel knew what she had to do: keep the children, and that's exactly what she did.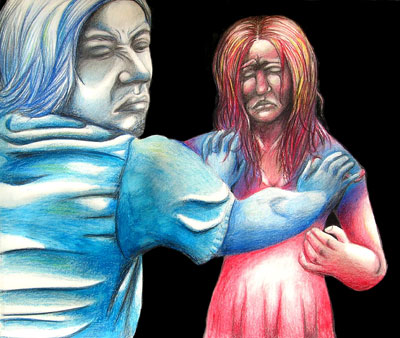 © Jessica P., Bethel Park, PA