There goes home
May 16, 2017
I watched the shadows dancing around my room as I clutched my sheets in a sweaty grip. Clouds swam around my precious planet, coating it in a smokey glaze. The talons of fear gripped my heart as the ship dragged me away from my home. A puff of smoke erupted from the smooth blue of an ocean. I slipped out of my covers and crossed over to my wall. I didn't want to see the destruction of my Earth, but explosions and bright red fire reflected off the smooth metal plating.
My heart skipped a beat and warm tears dripped down my face. I slid to the floor and wrapped my arms tightly around my legs. I sunk my head in the crevice and poured my scarred heart out in quiet sobs. That was my home, how could this happen to my dear home? Memories cracked and painful realization temporarily squeezed my lungs shut. There goes my house where I played with Mom and Dad. There goes the school and the playground where I frolicked with my friends. Pools, museums, forests, home. I'm trapped in the eternal emptiness of space. There goes home.
Screeeee. My circular metal door turned and slid away. The ship manufactures could have made a simple door, but no. Everything has to be so high tech. I hate high tech. I hate space. I hate people! People ruined Earth. People should all die. I clenched my fists as I walked into the tubular hallway. Thump. Thump. Thump. I slammed each foot against the echoey metal.
The walls were lined with the same circular doors as mine. Above each door there was a small screen that read the name of the family living in it.
Pearce, Cherek, Gilmore, Phillips, Andrews, Carroll. I ran down the long hallways until I found the door I was looking for. Alexandra. Right now I really needed my friend to calm me down. I knocked on her door and it swung away. Facing me was a flamethrower with my friend Paris clutching the trigger, ready to smolder my face. Gee, thanks Paris. Really calmed me down.
"Oh, Jeanne! Sorry 'bout that! Haha." Paris slung the flamethrower around her back. "Come here, friend!" She wobbled over with the flamethrower and pulled me into a tight hug.
"You nearly gave me a heart attack! What's with that?" I pointed to the flamethrower.
"Self defense against aliens," Paris said casually as she dragged me into her dorm.
"Oh, hi Jeanne! How are you?" Paris' mom said as she sprinkled something into a pan.
"Hi Jeanne," her dad sighed.
Paris lead me into her pod(bedroom) and we flopped onto her bed.
"Did you see it?" Paris asked.
I shut my eyes tight to stop the tears and nodded slowly. Paris wrapped her arms around me and we stared outside the pod's window. Empty space drifted by. Before I felt small and alone. My family had been left behind on the now-destroyed Earth, I was the only remaining Rellim. I felt so alone then. But not now. I'm not alone as long as I have my friends, and when I have friends like Paris, I know I'll be okay.
Our ship soared farther into the Universe, Paris and I were no longer afraid of what was coming.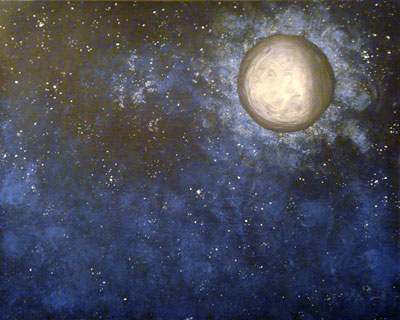 © Allison H., Vancouver, WA