The Impertinants
May 7, 2017
For the first time in forever, they came to me, not the other way around. I had never seen them before, but I had known them every day of my life: millions of years, and no time at all. They stared at me, never opening their eyes. They have stared since the beginning of eternity, and will stare until the end. But for all their unrelenting, ceaseless gazing, they never see. Never see my pain, my fire, my ice.
Like all of the Impertinents, they think I was made for them, whereas in fact, that is not true. They were made for me. All Impertinents were. They think I exist to strengthen them, but in fact the only reason their hearts beat is to nourish me, to sustain me, to keep me alive.
All around us are the Fronds, the towering, green, all powerful Fronds. They are there to keep the bad things out, the Impertinents think, but the Fronds themselves know better. They know their purpose is to keep the Impertinents in.
Even I get trapped sometimes. There are daily changes in the Fronds, some so imperceptible it takes millennia for them to be noticed, some circling and dividing so quickly that the human eye cannot keep up. But of course, I am not human. That is the job of the Impertinents.
I turn back to them as I think of them. They cower before the Fronds; as well they might, for the Fronds are made of nothing known to the Impertinents. The Fronds consist of dust, ashes, shadows. Of light and dark, of agoraphobia and claustrophobia. Where nothing and everything meet in a maelstrom.
The sun was very hot, but there was no sun at all.
In a single jerkily fluid motion, I swept up all of the Impertinents. At a glance of ice, at a glance of fire, the Fronds parted. I stepped through them and felt the Impertinents abhorring me.
Together, we fell. We fell for an age, but it was over in a second. As soon as the world had righted itself, I released the Impertinents. Hot mixed with cold, day mixed with night. Everything was chaos. And then,
There was
Nothing
At all.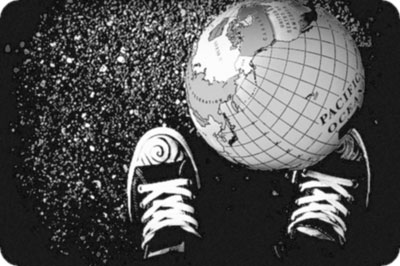 © Kailey E., Crownsville, MD