The Girl in the Window
November 3, 2016
"Yo, wake up" said Nate
"what boy" said Allan
"I think there might be someone downstairs"
"Bruh, are you for real you woke me up for that?" Allan said in an angry tone
"I mean yea, I scared"
"stop being a wimp, I'm going back to bed"
"Whatever if we die it's on you"
"I'm fine with that
Nate had a hard time going back to sleep that night, what could it be he wondered. He finally decided to try to go to sleep and as soon as he started to doze off he heard the noises again but this time it was followed by a loud rumble and the whole house shaking.
"did you hear that" said Nate in a sarcastic tone
"yeah what was that?" asked Allan
"I don't know, want to check it out?"
"not really, But sure"
So the boys decide to go check It out and the house was kind of an older house that they got a good deal on. It had torn up wall paper and no furniture besides a T.V. and the basics and a weird type of feeling that you are being watched. When they get downstairs they decide to spread out.
"you find anything?" Allan yelled
"nah, you?" Nate yelled
As they keep looking all the lights turn off and start flickering and a loud little girls voice starts to say "get out" over and over and It sounds like it's getting closer and closer. The voice and the lights stop and turn off and a couple seconds later a cold mist runs down their spine and then they get pushed down.
"Yo, did you just push me?" Nate asked
"no I thought you just pushed me" said Allan
"um no."
"yeah screw this I'm gone fam"
"yeah I'm out"
So the boys run out and as they look back they see a little girls face in the window
"um so what now?" asked Nate
"you still messin with that girl Katie?" Asked Allan
"Yeah why?"
"aint she good with this stuff?"
"not really but sure"
As they get to her house they realize that her friend, who Allan really likes, Mckayla is over.
KNOCK KNOCK KNOCK
"hey we need to talk"

End Scene.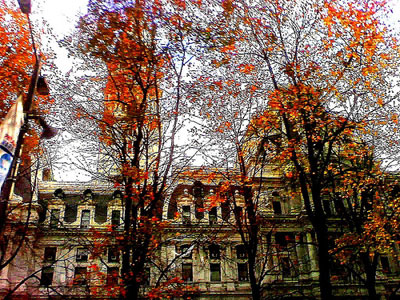 © Jayda S., Jessup, MD