The Child of Wisdom
February 11, 2009
It wasn't long after Sabriel arrived that the strange occurrence started again. I was more than a little preoccupied about being a mother than I was about supernatural happening stances. Sabriel spent most of the nights and days looking out of the windows when I wasn't holding her and caring for her. I had thought nothing of it except that she was longing for a home and her parents. But before bed, I noticed the owl outside of the window. If it were any other day before Sabriel, I would have ignored it, but it bugged me now. It was also there the next morning and that evening after work.
I found myself off on another adventure. I rose out of bed at twelve sixteen in the morning and dressed Sabriel, who was also up watching. We followed the owl into the woods. By the end, Sabriel was on my back, and I was hiking up a slope to a lone Weeping Willow draped over the top of a hill. The owl flew below into a cave entrance that was hidden in the lanky limbs. The snow-covered dome seemed less than inviting.
The moment I let Sabriel down to catch my breath, she scurried into the boughs. I did something I had never had done before: I snapped at her. It surprised me, but she was gone. I hoped I had not hurt her feelings or made her mad at me. I wasn't strong enough for that. Blindly, I hurried after her.
It was a different world when I stood. Snow blanketed the outside, forcing the inside to glitter with moonlight. There was light that shown liquid blue that shown through a whole in the cave. Sabriel was nowhere; I assumed she went up. I crawled up the climbable wall. The whole was just under roots of the strong tree. The liquid light revealed beautiful snow owls lurking in every corner of every branch. Hundreds of pairs of big round black eyes gazed wisely upon me; each of them was a misunderstood witness in my own eyes.
How could animals know so much more than I? I asked myself, stepping closer to Sabriel who was kneeling in the snow. I sighed, 'Sweetheart?'
She looked up with begging turquoise eyes. 'No!' I cried. 'No!' I told the owls. 'I've only had Sabriel for sixteen days! I can't take care of children!'
How stupid was I? I was yelling at owls for, crying out loud! Tomorrow it would be a snow leopard or a goat. Did they know I had a soft spot for abandoned children? It wasn't fair! Or was I being selfish?
This girl was pale on pale. Her skin was pure white, her hair was pure white, and her pure white lids covered her eyes. I knew from the shape of her eyes that they were a lot like the owls'. I groaned aloud, taking her into my arms. She was as hollow boned as a bird.
I glared around me at the owls. 'What do you want from me? What do you want for me?'
'Shh''
Astounded, I gawked down into my arms. Large pitch black eyes gazed deep into my soul. For twelve slow heartbeats, we looked upon one another. Her eyes changed and she looked away to one owl in particular. All around me, wings began to beat feverishly; owls were everywhere and suddenly they vanished as if they had never been.
Like Sabriel, the girl was sleeping innocence in my arms. I groaned again; I had never been so close to crying in such a long time. I didn't want this. I didn't want any of it because I didn't know what I was being pulled into. What was a little more than quiet obvious was that I had no choice what so ever about the whole thing.
During my sulking, Sabriel tugged on my hair. Her puppy eyes blinked twice before lifting her pudgy hand that held tightly to a long white feather. I switched the girl onto my side, tears burning my eyes as I took it from her. This wasn't fair. I considered leaving the owl child here. I didn't want to take care of children. Sabriel was enough for me. I sulked more, the tears now managed to fill my eyes. I took her hand and we started back to the house.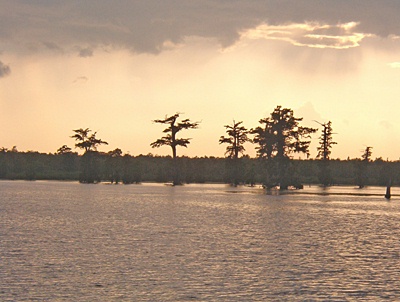 © Katy A., Gonzales, LA