The Library
March 23, 2016
Once upon a time, there lived a young girl who walked the bizarre, curvaceous landscapes of lands yet unknown to man, who watched the earth meet its end and be put back together again, and needed not look farther than the walls of her own home. Within this threshold, she dwelled a library of celestial stature, where she witnessed words become keys and the covers of books open gateways to the Outside.

From time to time, she would pace this library, marveling at the entire constellations which bedecked the walls of her father's office; she could run her fingertips over their treacherous mountains and expansive prairies, envisaging how many more existed just outside of that room, and how many more lives she could live just beyond her own.

As she appraised the perpetual possibilities before her, her disquisitive fingers trailed through the valleys between their spines, and her nails traced eagerly across the titles of adventures that only the pages within them could define. Her thumb dipped into the 'O' of an embellished cover, and she felt the staccato of a distant heartbeat that pulsed to the rhythm of a melody she couldn't hear.

Her gaze drifted past the apocalypse and the salvation of a world gone dark, beyond sailors that battled tempestuous currents and heroes that contended with damsel-snatching villains, over black seas of tears and resplendent smiles that could raise a million morning suns, and she smiled back.

When she found the end of her dispositional journey, she would tow one such world away from its universe and let it fall from the stars into her palm, and it's life would weigh heavy in her hand.

"So, who will you be today?" Her father would ask as she found her way to the hearth, drawing her latest treasure into her lap and donning her new eyes in the light of the fire.

"Today, I am Captain Ahab." Her unfailing reply would come, without looking up at him, in consideration of whomever's gaze she'd chosen to observe the world through that morning. Accordingly, he would always chuckle and return to his work.

"I guess that would make me the White Whale, then."

Meanwhile, in a land that was not too separate from his own, yet closer than he would ever know, an ocean roared between his daughter's fingertips, through which a beast of the deep rattled its vehement bones and stared right back.

And if only for that day, she would allow herself to become the world, save it, and destroy it just to watch it fall once more; all ensuing long before the sun had vacated their horizon to bring tomorrow to someone else.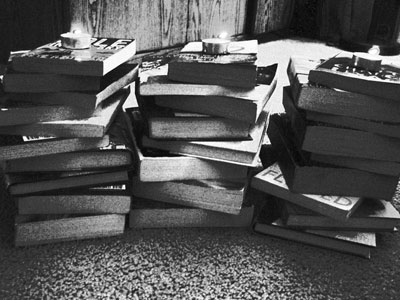 © Alexis R., Clarkdale, AZ