The Sun Always Shines
January 19, 2016
"Please," he snarled, a hint of desperation in his voice. "Do me a favor."
"I can't shoot you." There were tears in my eyes. He meant too much to me. It didn't matter that he was my enemy now, that he had been trying to kill me less than ten seconds ago. I needed to save him. I couldn't kill him. It'd kill me, to pull that trigger.
"Why not? I just tried killing you," he said, stating the obvious. "You should at least return the favor."
"You're my best friend. I can't hurt you. I won't fight you." I stepped back, taking my foot off of his chest and dropping the gun. He growled, lunging forward as he swept up the gun. He pressed it into my hands, digging it into his stomach as he moved his body up close to mine. My breathing quickened, my eyes wide in terror as I looked over his shoulder at the fallen army behind.
"Do it. Pull the trigger. I'm a monster, Laurie. You've seen what I can do now. What makes you think I'm worth living? What about me is possibly redeeming?" there was definitely tears on my face now, running down through the dirt and blood that I hid behind.
"I can't," my voice cracked. "I love you, I can't do it please don't make me do it." He just pressed closer, until his forehead rested on my shoulder. "Let me help you, we can help you, you don't need to do this anymore."
"Laurie, you can't save me. Don't you think I've tried to change? I can't. I'm ruined. My soul is damned and I'm done for. All you need to do is make it stop." He was rubbing one of the buttons on my uniform around, dulling the shiny metal with blood.
"No…"
"Laurie."
"No!"
"Laurie!" He suddenly looked right up at me, tears falling heavy on both our cheeks. His skin glistened in the sun, that awfully bright sun, the one that shinned mockingly down at our grief. It should be raining, or night, or something other than blindingly bright.
Slowly, he took the gun out of my hand, pressing it to his forehead.
"No…" I whispered, my voice barely worming its way out of my bruised throat. I couldn't move. I was frozen, just watching him swaying on his feet in the light breeze, his body covered in horrific scars and bruises darker than his hair. He was skinny, too skinny, and somewhere in the back of my mind, I was still thinking of what dinner I'd make for him when he got home. How little I knew, how little I noticed.
"I'm dying anyways, Laurie. I can't live here anymore. I'm a monster, and Hell is going to claim me." He gave me a sad smile as I started rambling, telling him how we were working on a cure and he'd be human again and he'd be able to stomach the taste of my meatballs once more. I reached out, trying to pull the gun from his hands. But he was too strong, too far gone.
"Please, don't make me watch." I sobbed. "Don't make me watch you die."
"I'm sorry Laurie." His voice was cracking too now. He reached out, gently placing his hand to my cheek. "I'm so sorry."
The sun was still shining when he dropped to the ground.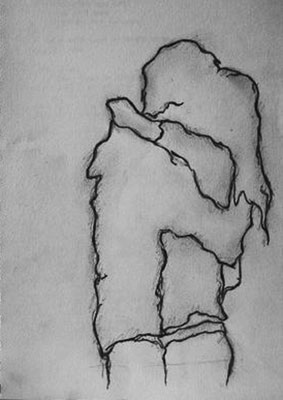 © Nicole B., Newcastle, WA