The Silence Kept
July 16, 2014
They danced around the bonfire blazing in the night on the hill. They were so graceful, their bodies moving with the wind and their hooves silently hitting the ground. They threw their petals into the air. They had necklaces and bracelets of flowers. Some of the women even had flowers in their hair.

I hid in the bushes on the edge of the woods surrounding the clearing. I loved to watch the centaurs. They moved so gracefully. When I was younger I had always wanted to be one. Now that I was older I knew that my dream would never come true. My mother had always told me that they were dangerous. If they knew that I was here then they would kill me. No one was allowed to watch their festivals.

But they were so entrancing. I snuck out at night just to watch them. They leaped and danced through the air. Their faces fierce but their movements were graceful. I backed into the woods as more centaurs arrived in the clearing. They joined the festivities without saying anything. They placed the red wine on the outside of the circle for later use next to the burning candles that made a wide circle, encompassing the fire and dancing.

Then I saw something I had never seen before. A young centaur arrived in the clearing. It was a boy about my age. I moved closer again to get a better look. His brown shaggy hair matched his fur on the other half of his body. It was about a chestnut brown, but it was hard to tell in the dark. His face was round and I could see the well-developed muscles on his arms. I blushed in the dark.

He must have felt me looking at him. He looked over and saw me immediately. My eyes couldn't leave his. He froze and so did I. I just couldn't look away from those dark filled eyes. Then I felt myself scrambling backwards and then I was running through the woods. He had seen me. They would come after me the moment he said he'd seen me. I just had to reach the edge of the trees. My heart beat quickly and my breaths came in short gasps. I felt my sweat collecting on my hands and I couldn't hear anything over the blood pumping in my ears.
I made it to the village and found my house. I looked back but there was nothing there over the dull lamps shining on the side of the road. I climbed back through my window and lay my head on my pillow with my heart still beating fast.

Why hadn't I been followed? Hadn't he told the others? It was their festival and their tradition after all. Why would he keep his mouth shut? He had let me live. I buried myself under the covers. I would go back, just as I always had. Even after what had happened, there was no way I couldn't go back. I'd see him again.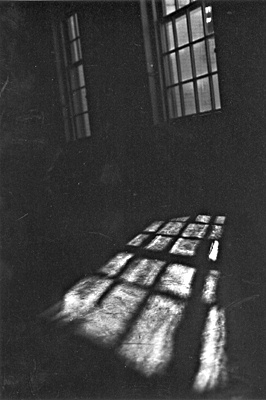 © Mary A., Fullerton, CA