Trance
MAG
May 14, 2014
I see her from across the room, one leg crossed delicately over the other as she takes a short puff from her cigarette. The smoke escapes her red lips in slow motion, lapping over itself until it dissipates into the lousy atmosphere. A waiter sets a martini in front of her, and his eyes linger for a little too long near her half-exposed cleavage. She nods his way. With a final drag, she puts the cigarette out and picks up the glass.

She eats the olive first, tossing the toothpick behind her as she stands up from the bar stool, and suddenly her gaze is stuck to mine. Her stare is an adhesive, triggering a jolt of electricity through my veins that makes me stand as well.

Her hips sway with svelte motion as she preys upon me through the messy crowd of people. We meet in the middle. Her drink ripples from the deafening bass of the music. She stares me down.

I begin to lose myself. My knee caps are turning to mush, and with a simple flick of her finger, I am following her into the merciless dark of evening. She pushes me against the brick wall, her body meeting mine like a stone that molds with every muscle that shapes me. She drops her glass, and it shatters lightly against the pavement.

Her lips meet mine and travel to my jaw, then my neck. I let her. Then a growl escapes from deep in her. Not a pleasurable growl, but one of malice and hunger. And before I register it, her teeth sink easily into the side of my neck.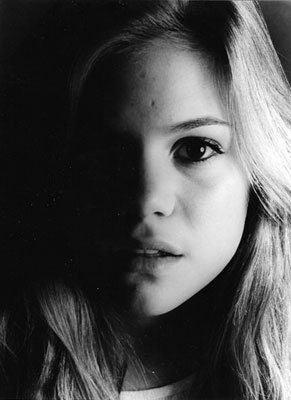 © Michelle M., Plainview, NY