The Heart Thief
May 24, 2013
It was raw. Bits and pieces missing. Red and fleshy, it pulses. Thump after thump. The patches covering up bloody scrapes are starting to peel off. The black zigzag of a string up the middle seems loose an frayed. A band-aid falls off a corner onto the floor. The wear and tear of a love. Of love itself.
The woman's hand reaches back over her heart, each pale finger wrapping around slowly. Her hand snatches it quickly and and carefully hides it back in her purse. Her embarrassment spreads red across her cheeks, the wear-and-tear of her heart she must not like. Her lips purse with discontent. My chest caves in a little with sadness.
She turns on her heel and leaves, with her distasteful face. Her hair bounces with her stride and I am forced to think of my own heart, locked up somewhere. Hidden from my own eyes. From myself. Where I cannot protect it,or see it.
I remember the night, my eyes close and I am there.

Sitting down to eat, a knock comes on the door just as my tush touches the wooden bottom of my chair. Sighing, I get up. My hands pushing my body upwards. My fingers grasp the handle of the door. Opening the creaking wood, I look into the eyes of one who terrifies all. The Heart Thief.
He sniggers at my sudden fear as it raises eyebrows and opens my eyes. His small frame shouldn't intimidate me, but it does. Knowing what he is after, I try not to grasp my Heart Purse. But my fingers ache to. Oh so badly. They twitch and jitter, hoping this is all fake.
His black hair whips around his face, but he sees not to notice. His foot takes a step towards me and I learch back in response, allowing the door to open. He comes forward faster and a yell escapes my throat.
A snarl comes from him as his fist meets my head, near my temple. As black dots float in my sight, I feel kicks coming at me. On the ground now, unprotected, he searches my struggling body. He finds my Heart Purse. His eyes look inside, and he turnsto leave with it. I throw my hand out to stop him, but he only stumbles slightly. He leaves with my heart.
Yes, I still remember it all.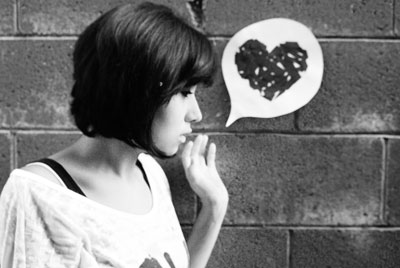 © Michelle B., West Covina, CA