Lyric
May 6, 2013
I sat in the plush, red chair in the corner of the room. It was the farthest one from the sadistic man who was sitting in a similar one in front of the orange, glowing fire.

How cliché could he get? I was in Hell, the actual place, and he was sitting ten feet from a fire. I rolled my eyes, wringing my fingers nervously before fluffing the ruffles on my red dress. A delicate string of pearls hung loosely around my neck. I had to admit, despite his cruelty, he had taste.

It really irritated me though, the way he just smiled at me, taking obvious pleasure in my discomfort.

"If you'd like-"

"Shut up," I said simply, cutting him off, not caring whether or not what he was going to say had any value.

He let out an exasperated breath and looked at the fire for a while, no doubt lost in thought. I knew I always gave him a hard time, but it was for good reason. He had no right to do this to me.
I scratched my temple, feeling that my hair had been folded together as I slept. I felt around it, searching for the wretched ribbon he always had holding my hair up, intent on letting my wavy tresses resume their natural and more comfortable position. Instead of a ribbon though, I found small, hard objects strategically placed without a pattern through my hair. I plucked one free, holding it in my palm to get a better look.

It twinkled up at me, shiny, dark and red.

"At least that's original," I scoffed, holding the weightless thing in my hand, turning it toward the firelight so as to see it better. As I maneuvered my hands the bead started glowing with a bright, but not hot, flame of its own. It danced in my hand, twirling around my fingers before being absorbed by the bead. As the flames disappeared the bead grew steadily warmer, taking on an orange glow before turning to ash.

I looked up at the man; he looked back at me with a smug smile.

"Okay, Hades, we've got to be done with this. I'm going to get away, just as I have before, so why not stop with the games? Just let me go," I waited for a reply.

"No," he said slowly, taking time to choose his words and looking me in the eyes, "I'm determined to keep you here this time, even if I have to lock you in your chambers. I've told you many times, Lyric, you will be my wife, and if not, my captive princess."

I stopped fidgeting with my dress and looked at the handsome, but incredibly stubborn man, "You wouldn't."

"Oh, but of course I would. My love for you cannot be stopped, even by the barrier of another world."

"Love!" My eyes got wide, "you call killing and kidnapping love? Wow, I mean, being the 'God' of the Underworld, I'd expect you to have social and moral problems, but not quite to this extent." I rolled my eyes.

"I'll do whatever I have to. Whatever to keep our love alive," He said matter-of-factly, unaffected by my insult.

I smirked, "Yeah, whatever, try keeping a nonexistent and creepy notion alive," I stood up, smoothing down the ruffles on my dress. "Good night, hopefully I won't see you in the morning," and with that I left, strolling down the long corridor that lead to my room, one I was now accustomed to.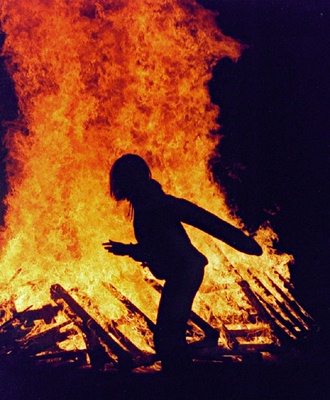 © Hali S., Robinson, IL