Cobbler's Lane
March 29, 2013
Rami and I met on the streets when we were seven. I was freshly orphaned after a raging fire devoured all of the rickety tenements along Rubbish Row; Rami's mother, her only known kin, died the same night, stabbed to death at the tavern where she danced for her meager living. No one ever found out what caused the fire, or who committed the stabbing, but what did it matter? The only people harmed were Underlings and Shadows, anyway. Young as we were, Rami and I knew it would be fruitless to seek justice. Rather, we took to the streets, the only place where we would be allowed to stay.

We first saw each other as we sat across the street from each other on opposite corners of Cobbler's Lane, begging passersby for coins and food. Recognizing one another as kindred--kids, babies really, begging as we oughtn't have had to--we exchanged glances throughout the day. Despite all my begging, the inhabitants of Manarar were close-pursed, and throughout the day I saw not the glint of even one copper. Rami, with her huge brown eyes and pouting lip, seemed to be having different luck, and I glowered at her across Cobbler's Lane as she grasped crusts of bread, hard cheese, part of a turnover, and even a couple of silvers.

As the setting sun was basking Rami's side of Cobbler's Lane in warm orange light, I was startled to see her stand and make her way to me.

"Orphan?" she asked, one word seeming to count for greeting and question together. Her voice was oddly raspy, not what I had expected from someone so small and birdlike.

"Yeah. You?" I'd cried watching the blaze, but Shadows learned: Weakness had to be temporary.

"Yep." And then she surprised me even more: in my lap, she set two crusts of bread and a piece of cheese.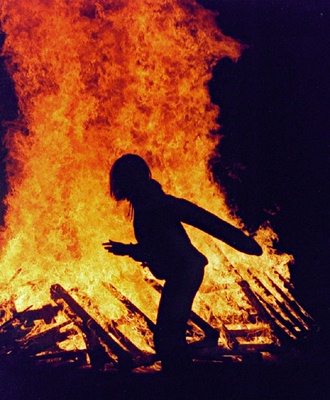 © Hali S., Robinson, IL