Behind the Mountains
January 17, 2013
The night falls through. She has the dormers opened, hoping to greet the ghosts of youth with long cries to the sky. Darkness has filled her eyes. No glitter, no starlight; but once in a while, the sky cracks a pitiful smile, seemingly to remind her of something she has long forgotten.

Fear is what her eager eyes have defeated; the world she desires to see is just behind the colossal mountains that lie at a distance. Beyond the barricade is a world in uncertainty, but be it a valley that lives unicorns, or a land of nowhere in obscurity, she has developed an indulgence in finding it out.

On the edge of the dormer she sits, her little feet dangling as if dancing in the wind. They have been put on her most-adored, red shiny shoes. Her legs long for taking long walks, just like the endless ones on adventures - only, farther and longer than endless.

The ghosts of youth used to haunt her, yet they are unusually inviting tonight. They float and wander around as if they were angels from hell. She lifts her head up once again, watching the sky smiles. The pale moonlight shines a valedictory; are the clouds waving goodbye?

Behind her is a bedroom smells of sweat, failure and dread under a false pretense. It is a smell she despise. The world that lies beyond the mountains, she thinks, must have the scent of aroma. She imagines walking into a field of narcissi, sniffing the essence of the flowers.

Leaning forward, she craves for going. As she loses balance for that instant second, her grip on the windowsill has tightened. The wind honks and blows her hair. It pushes her backwards with its strong breeze, little by little - back into the odorous bedroom she loathes. She can almost hear the wind singing her name.

"Sky,"

It whispers.

"Don't jump."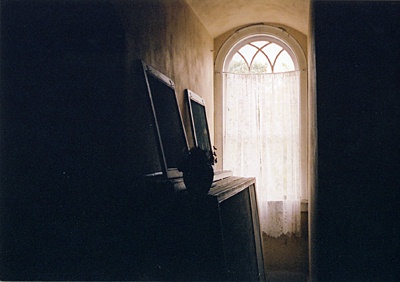 © Kandi B., Vacherie, LA