The Never Ending Love
December 2, 2012
Guenever is still madly in love with Lancelot, but Lancelot does not have the same feelings for her. Lancelot has left Guenever and has fallen in love with God. After weeks of trying to avoid Guenever's love he decides he has had enough. To solve this problem he will go on a quest to find a potion that erases past loves from the memory of the person who takes the potion. Lancelot has to lie to everyone about the quest he is going on so nobody is suspicious. He worries that if anyone knew the real reason for the quest Guenever would somehow find out and not fall for the trick. He decides to tell everyone he is going on a quest for the Questing Beast's son, which only he has heard the news of.

Lancelot sets out the next morning for the castle of the witch of love, Matilda. His journey is non-problematic until he runs into Arthur. Arthur had decided that he would look for the Questing Beast's son as well. Arthur and Merlyn had gone on many journeys involving animals, and he felt he could accomplish any quest after being king. Arthur starts asking Lancelot for details of his quest so far; Lancelot cracks under pressure and tells Arthur he has a secret. Arthur can know on one condition, he must go on the rest of the quest with Lancelot. He agrees and Lancelot tells him what he is truly on a quest for. Arthur is in shock, but understands after considering the circumstances. The two travel on together. On the way Arthur's horse breaks his leg and they are forced to leave him behind. Now, with both men riding on the same horse they have to take breaks often to rest the horse. This doubles the amount of time the journey is supposed to take. After two days they finally reach the castle of Matilda.

Lancelot had no way of notifying the witch they were coming, since he had to be secretive, and they had a little trouble getting into the castle. After explaining the situation to the guards and Matilda they were very understanding and let them in. The potion was requested, and the men stayed overnight while it was prepared. The next morning they got up early to head back home; Matilda lent Arthur a horse.

They arrived back home late that night and everyone had tea and discussed how the quest went. The boys told the fable they had made up together on the way back, the end being they had no luck. Little did anyone know that Lancelot had sneakily snuck the potion into Guenever's tea. Everyone headed to bed, and the next morning when Guenever woke up she had completely forgotten about her love for Lancelot. What Lancelot and Arthur did not know was that Matilda had added something else to the potion as well. Not only did Guenever forget about past loves, but she fell in love with whomever she had most recently dreamt about. That person so happened to be Lancelot. All of his hard work had been for nothing; he had the same problem he did before. Matilda was an evil witch, and Lancelot was never going to trust her again. He also did not plan on sending her horse back to her. The only positive item in the situation was that Arthur had kept his word, and not told anyone the secret. Lancelot could only hope that this did not change.

Lancelot sadly ran off to hide from Guenever in the woods and to start brainstorming another way for her to stop loving him.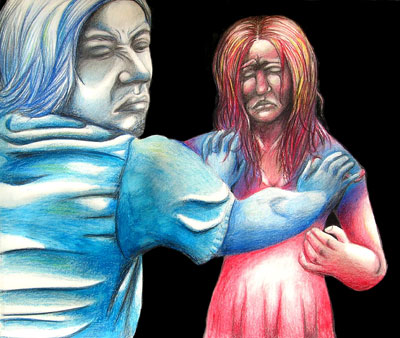 © Jessica P., Bethel Park, PA