Vladmir
September 25, 2012
I'm not a very good writer, bear with me here :c
ALSO: He has had a cataract eye since birth, it being a congenital cataract, and it was never cured.

Connecting...
Connecting...
Connected.

<:: NAME: OSKOLOV, VLADMIR ::>
<:: CITIZEN IDENTIFICATION NUMBER: N/A ::>
<:: PHYSICAL DESCRIPTION: 6'1", CATARACT RIGHT EYE, BUILT, GREEN SHIRT, RUSSIAN ::>
<:: STATUS: CITIZEN ::>

Disconnecting...
Disconnecting...
Disconnected.

He wakes up in the ashes of his own home, choppers flying above and floors nearly destroyed. Vladmir gets up, feeling the gray ash on the floor, and looking around for his family. As he steps up the doors, he sees his children dead, laying on the wall. Blood dripping from their heads, taking everything away from them. He sat with their lifeless bodies only wanting a few more moments to say goodbye, he rubs their hair and hugs the corpses, as if they were alive. He sat for hours, reminiscing the times he had had with them, the days he spent playing, the days he was gone, the days they were gone.

Vladmir stands where he sits and looks outside, officers driving about and breaching houses along the country-side of Semyonov, taking everyone to trucks. Packed full of citizens, they must also defecate and urinate there, with a constant drive providing minimal food and long drive. Eventually they reach Moscow, where a general language centre has been established. In a day the Citizens are taught basic English. Vladmir ends up speaking in third person for quite a time, until he was taught by a woman later on. After this, they were kept here until cities could be established. For a few years he had been thrown from city to city, learning bits of English, losing bits of his softer personality. Eventually, he arrived in City 45, located in a small unnamed town in Eastern Europe. It was split into sectors, Sector 1 being the place of arrival, and that being the safest to be. Straight across the plaza was where the hulking Nexus sat, glorious in its ground. The rebels avoided these areas, most of the time only coming through to migrate from Sector 2 to Sector 3, as the sewers had been blown out a few months before.

"What is noise?" Vladmir says to himself as four armed gunmen kick down his door aiming at him, telling him to get on the wall. The leader, seemingly, stomped down on Vlad's back, keeping him down. His hands were tied as he looked somewhat fearfully at the men "Why must do this?" he said, only with one of them yelling "Shut up! Be quiet and stay there." One of them sits beside the door, holding his shotgun at heads height. Though they hadn't noticed, an OTA unit as well as 2 officers had been tailing behind for the entire time that they travelled. At the moment that they hear "Alright, guns down." they push through, guns prepared and a tear gas grenade thrown in. The thick gas causes them to cough, and struggle to find anyone else due to their impaired vision, Vladmir had seen the men before, they were in the slums. Called themselves the 'Outlanders', a wannabe-resistance group, only getting minimal ammunition, and most likely will never make it to the location they could only wish to go. This wasn't his last encounter with the Outlanders, though.

His last travel is made to City 18, again; located in Russia. He can easily communicate with some of the locals, yet most of them are still English, a few of them seemingly being from England or Britain in the first place. He scavenges a few days after arriving, looking through the slums and several other places for anything he can use. This day was a lucky day, he had found a lever, pot, pipe and a few metal scraps. He could use the lever for mechanics and maybe the metal for a makeshift set of armor. As he is with a woman he had met on the train, her being quite close to him as a friend, they previously broke into the ration distribution centre when there were no units there, covering the cameras with paint from a spray can. They ran, but were shot at by a few units, only finding another on the other side. Luckily, this man had been somewhat strange. He offered safety and work, but not citizen labour, resistance work. After being taken to a location containing items and people of value, he decided to stay. This being his only home now.

"Who is man that Bane work for?" Vladmir asks, the unit turning around and saying "I'm not sure, but he's a man of immense power.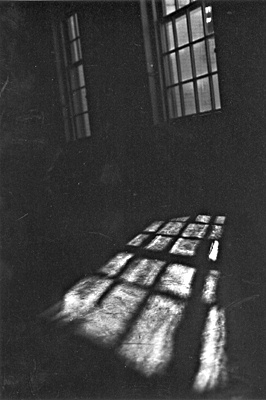 © Mary A., Fullerton, CA