The Arachneight Steam Co. Project
September 3, 2012
Misters C. J. Ernest and Langley P. Hewitt preside over the entire Arachneight Steam Co. project.
"Langley I must insist upon your immediate resignation." Mr. C.J. Ernest says to his partner.
"And I the same, good sir," replies Langley P. Hewitt, "For it is necessary to have a complete plan for the iron-workers to shape the iron, and this, my friend, you have not provided."
"My dear Mr. Hewitt, it is not for me to decide, it is for the people of Scurlock. This is, after all, a democracy." Mr. Ernest says good-naturedly.
"This is a factory!" replies Mr. Hewitt, clearly appalled, "There is nothing political about it!"
"And that," says C.J. Ernest, "Is where you are wrong, my good man. The Arachneight Steam Co. Project will decide on the fate of Scurlock. The civilians are bound to want a say in it!"
"I don't see how!" shouts Mr. Langley P. Hewitt, "This is but a product for which they will place their money on the counter for at the toy shoppe!"
"Why, Langley!" cries Mr. Ernest, "This is an automobile industry!"
"Naturally," says Langley calmly, "One of such unfortunate thoughts would think so. But what citizen of Scurlock would fill out a 100 page survey just to ride with a different colored seat?" For emphasis, Mr. Langley P. Hewitt throws a pile of surveys into the trash, for on the front of each one it says,
"Which color do you prefer for a seat in which to ride a vehicle?"
"With this type of absurdity, our project shall be reduced to that of a matchbox car sold in toy shoppes for small children to play with!" says Langley, finishing his speech, to which Mr. Ernest replies,
"It is the opposite! The citizens of Scurlock are a respectable people that value nothing more than their own comfort!" Mr. Hewitt is now decidedly mad, and says, "Mr. Ernest, these people live in a grey world, and have yet to come out of it. They like their comfort, yes, but only when it is decided for them. Anything to make their lives easier they will do, for in their world, every aspect of life is bleak and undoubtedly similar!" Mr. Ernest has now reached a boiling point.
"THIS SOUNDS LIKE COMMUNISM!" he spits.
They bicker like this for a while, and soon the Arachneight design for an eight-legged automobile is used by the Lovell-Thompkins Industry Co. and the workers have found different jobs. Yet, Misters C.J. Ernest and Langley P. Hewitt are still bickering today, because they are, after all, part robot.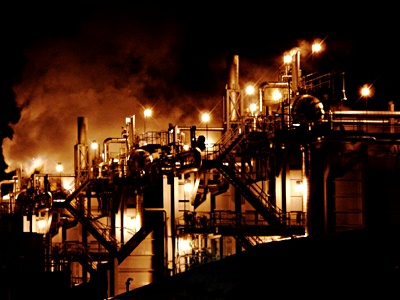 © Greg K., New Lenox, IL