Haunting Me - Chapter 1
August 22, 2012
Cloe pauses in the doorway, her bright blue eyes scanning the corridor uneasily. She knew someone was watching her, so why couldn't she see them? "Oh, whatever, Cloe. Just you being paranoid," she grumbles to herself, slowing walking into the hall and shivering, feeling a cold breeze against her porcelain skin. Where had Vegas gone now? Probably with her younger brother, Beck. At least, that was Cloe's guess.
"Hey. Are you new here?"
Cloe whirls around to see a tall guy standing a few feet off, Apache Indian from the looks of it. "No, I'm not new here at all. I've never seen you around. I'm Cloe Sterling, by the way. You are?"
"Rian Jay, or Ri," he replies, brushing a hand through his raven black hair as Vegas walks up.
"Ri, why are you talking to her?! I warned you, Cloe is bad luck!" she says, clearly exasperated. Rian chuckles, hugging Vegas close.
"She doesn't seem like it."
"Yeah, well... Can we just go?" Vegas mutters, rolling her eyes. That was what Cloe hated about the Cherokee girl. Anything that happened was Cloe's fault in Vegas' book, and Beck had almost no choice but to listen to her, even though he admitted he loved Cloe and didn't think she was as bad as Vegas liked to make her seem. Most of the others staying in the hotel in London felt the same vibes as Cloe, but Vegas was one of the few that didn't, which raised Cloe's suspicions.
It'd started a few months back when a guy named Hale had been found locked in the closet of his hotel room, yet there were no signs of a struggle of any sort and he didn't seem to remember anything. Cloe had appointed herself the "detective" and was the first to pick up the feeling of some presence in the hotel that wasn't human, but neither was it like anyone who was currently in the hotel.
"Hello! Earth to Cloe! Will you get out of the way?" Vegas growls. Cloe shrugs, stepping back into her room and sighing. It wasn't like Vegas to act like this, but what Beck told her must have scared her, and Cloe was an easy scapegoat. Sure, there was another girl, Sarrah, but why would anyone believe Vegas if she turned on the small auburn haired girl? No one, as far as Cloe could tell.
She shakes her head, slipping back into the hall and sliding her hand along the wall, pausing by Hale's room, tempted to go in and check on him. She was the only person he'd talked to after the incident anyway...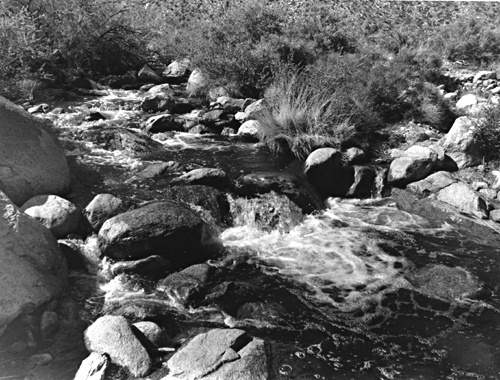 © Becky S., Stony Brook, NY