The Midnight Escape
July 23, 2012
I took a sip of the wine put in front of me. My parents had thrown a party and were terribly drunk. I guess you could consider this another thing they managed to achieve while being unreliably happy. My mother's auburn hair had fallen out of her tight bun and shifted from shoulder to shoulder as she laughed. My father smiled intently, but I still hid away knowing his surpirising anger attacks. A couple dozen people screamed and giggled through the gaze caught in my tired eyes. It was close to 3 am and I knew I would be taken advantage of if I went to bed.



The taste in my mouth became very stale and gross. My head began to ache worse than ever and I walked slowly out the back door. Any plausable fear I had vanished when my feet hit the cold, wet grass. The trees before me glowed with opportunity. Now, without any other feeings, a strange excitement grew within me. My toes curled and I picked up my knees. The wind smacked my face and I ran faster and faster every second that passed.



Suddenly, everything stopped. The very first tree stood before my warm face, warning me. Looking back at the house, I sighed. A new car was pulling back around trying to find a place to park. This was my escape. There were 60 happy people in my home, but I still just felt so betrayed and lonely. My eyes became fixed on a field behind the wall of trees, scary trees. Nothing was going to stop me. I picked up my heels, closed my eyes and ran as fast as I could. Owls cried in front of me, while little critters scurried with along my side. But there nothing that could ruin the moment of the moon as it warmed my nose with a nightly glow.



As if out of nowhere, the sound of rustling leaves stopped and it felt like the moon rested his hands on my tired legs. My body fell onto the endless field. The flowers and grass soared as far as my imagination, it seemed. There would always be a place I could escape to. Always.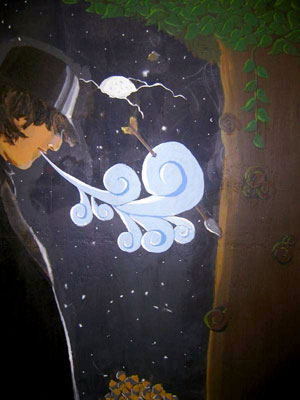 © Dean W., Hinesville, GA