Stars of Ar-Terra (Chapter 2)
July 16, 2012
I wake up the next evening to the rumbling sound of Kawn softly snoring, a few strands of his chin-length dark blonde hair falling over his face. I glance over at the clock, 7:32 pm. The sun would be setting soon.

'Kawn," I say as I softly shake him back and forth, "You have to wake up. We're due outside in less than half an hour."

He moans in protest, not wanting to be woken up, and rolls over so that his back is facing me.

"Alright, I'll just go get the ice…" I say, warning him as I walk towards the door of the bedroom.

"You wouldn't dare…" He says sleepily.

"Oh I would. Now get out of bed before I have the chance to get it."

I hear rustling of bed sheets as I walk out of the bedroom. I head downstairs and make myself some coffee. The thing about Aztras is that we don't need food to live. We can eat, but we don't need to. All we have to consume to stay alive is one glass of water a night, since we're on a nocturnal schedule. I'm not entirely sure where we get our water and other drinks from, considering Aztras homes are located in nebulas, but that's for the Masters to worry about.

I sip my coffee and walk back upstairs to check on Kawn. In the bedroom, the bed is empty and he's walking out of the closet with dark jeans on and pulling a light gray t-shirt over his not-too-muscular-not-too-skinny torso.

"Good, you're out of bed. I was afraid I'd actually have to use the ice this time." I said and took another sip of my coffee before I placed the cup on my nightstand and walked into the closet to dress myself.

He smiles at my comment and watches me go into the closet, then turns away to give me my privacy. I pull on my white shorts and a pale blue flowy top.

"Come on," he says and gently grasps my hand, leading me downstairs. He opens the largest window and jumps, his wings spreading out behind him like a huge cloud of smoke. I follow suit and feel my wings sprout out of my back. I turn back and look at our house. No doors, just windows and walls made out of the gases from the nebula.

I feel a tug on my wing, knowing it's Kawn. Nobody but the one we are bonded to are allowed to touch our wings. Its some sort of tradition that the Aztras have always followed. Something to do with the sacredness of our wings…I've never fully understood.

I turn to face Kawn and he motions for me to follow him to our designated Shining spot. I trail behind him as he heads towards our place.

When we arrive, we sit on the multiple gases below us and wait fort he sun to fully set, slowly glowing a bit brighter as the western hemisphere of the Earth gradually gets darker.

An Aztra guard in a blue uniform covered in golden buttons, strategically placed to look official, with golden wings flies by to see that we're in our spots on time, nods at us, and passes to check on the next stars.

Kawn and I look at each other for a brief moment, then I move my gaze back down to Earth. He takes my hand in his and laces his fingers with mine. I let him, reminding myself that I'll have get used to this, as the date of our wedding ceremony is rapidly approaching.

I gaze down at the blue and green planet, wondering what my brother, Nick, is doing down there. Wondering where he is…if he's looking up at the sky, trying to find me.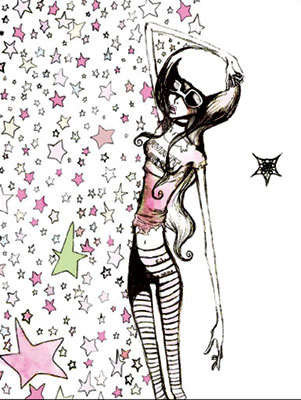 © Emily L., Redmond, OR