The Island of Dreams
June 20, 2012
There once was an island where all your dreams came true. Not many people knew of this special place. Most people found it while boating, others while swimming. It was called The Island Of Dreams, because when you went there all you had to do was dream something and it would appear right in front of you. At times it seemed too good to be true, because it was.



Once you dreamt of something you couldn't erase it, but nobody knew that. Once in a while there would be a person who dreamt something bad, something so scary that once they saw what they dreamt they left. If they were smart they dreamt of something to destroy the monster. The worst dream that was dreamt at the Island of Dreams had been dreamt by Susie Cagell. Susie Cagell had created darkness.



Susie thought she'd dream well at the Island of Dreams. That wasn't the case. Poor little 8 year old Susie had the oddest most scary dreams. You couldn't even imagine them. Little Susie lied down on the small hammock hanging from the large birch tree. In moments she was asleep and dreaming, but this dream was worse than any dream had ever been.



The dream started out somewhat peaceful. Susie dreamt she was sitting underneath a tree reading her favorite book. Suddenly darkness crept in, making it seem like everything was being eclipsed by shadows. The darkness covered Susie, suffocating her. That's when she awoke, and realized that darkness was creeping in. Eclipsing her not only in her dreams, but also in reality. Susie screamed, but nobody heard.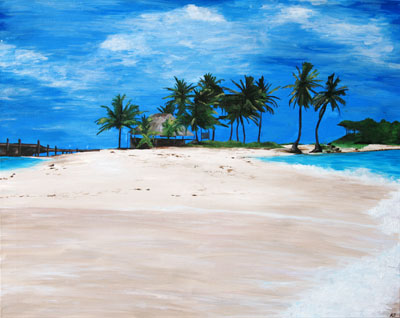 © Karen S., Norwalk, CT