Teddy Bear Scare (The Ones that Hug Back)
June 13, 2012
Files: 13 reports about children's' deaths by an unknown cause, within the last week. The children appeared to have been suffocated.
Detective Fuzé, a single senior crime analyst, is on the case. Fuzé is a 65 year old man with hair that's bone white and the heart of a lion; bold and brave. He's been in the force for many years. He is a tall, lean man; 6' 2". The detective examined each crime scene after he interviewed the witnesses. They each said, "My child sneezed 3 times; I just assumed it was dusty. Then I heard screaming and after that it was silent. I hurried to check on my child and sadly, I found him/her dead on the floor."
Fuzé was able to take a few photos of each crime and observe them more closely in his office. Suddenly, he found, in every picture, similar brown teddy bears in each background. "Could this be a clue?" the detective wondered. "Bears can't kill, can they?" Further investigation was needed.
Fuzé asked each family where they had found the bear and if he could have one for analyzing at the lab. Surprisingly, his request was denied; but they told him to go to the carnival to obtain a bear.
There he was, a grown man, at the carnival, searching for a teddy bear. A sweet aroma of cotton candy filled the air; balloons of all colors called out to the children, and prize booths lined the carnival in all directions. Eventually, Fuzé spied his suspect on a filthy, dusty shelf at a prize booth. After a challenging game of ring toss, the detective finally won his fluffy buddy. The hand stitched tag on the bear, he noticed, had an ancient Chinese symbol used for magic.
Back at the lab, he carefully dissected the belly of the bear which revealed a small pouch of mysterious powder. All of a sudden, he began to sneeze, but only 3 times, which, was enough to activate the ancient Chinese curse. The bear awoke with rage determined to smother its victim. Thinking fast, detective Fuzé gripped his dissecting knife and chopped off its ears. More furious than ever, the spell bound bear, his claws as sharp as knifes, lunged and gripping the detective's head, shoving it into his open belly. As foam began to fill Fuzé's nostrils and mouth, he soon felt light headed. Panic over came him and he frantically grabbed the bear's tail; yanking it clean off the body. The monstrous teddy froze in its tracks before exploding. Fluff floated down like freshly fallen snow; covering the lab.
Detective Fuzé spit out the cotton and blew his nose. He stood trembling as he pondered what had just happened. After Fuzé's near death experience, he began to clean up his experiment. The bear curse was finally broken and all brown teddy bears were recalled. Case closed!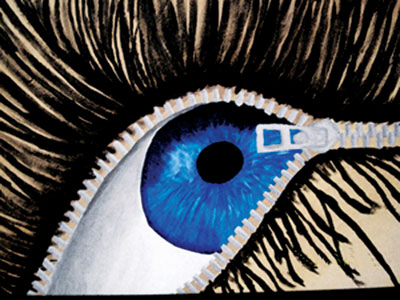 © Brad S., Lecompton, KS