The Little Merman
June 5, 2012
Once there was a little merman who lived under the sea in a big castle. He was the hottest king the sea ever saw! He could get every mermaid he ever wanted except for one girl. She was not a mermaid; she was a princess that lived on the main land. She was beautiful like nothing the king ever saw! Even if she fell in love with him that would not be good because she had legs and he did not.

He told his father about this amazing princess. The king told his son to go to the magical witch all the way across the sea.

His journey took him two weeks. The king went to places he has never been before. He searched high and low for any sign of getting closer to the castle. What was he going to say to the king when he got there? More importantly what was he going to tell the princess? That he was in love with her or that he wanted to marry her? He was so confused; he was so nervous suddenly he felt dizzy. He suddenly fell to the floor.

He woke up in a castle! The princess's castle! He was so excited! Suddenly, the king came in, and then the princess; the merman couldn't believe his eyes! He was seeing his love for the first time in person. He started talking to the king and the king invited the merman to come stay at the castle. The merman agreed since he could not move because he was so hurt.

Over a couple of weeks the merman and the princess started to fall in love. They spent every day together during his recovery. He finally found the courage to ask for the princess hand in marriage. The princess said yes!!

The king allowed his daughter to get married to the merman considering that back home he too was a prince. They quickly got married in the castle and he asks the princess a very important question.

He asked, "Where would you like to live? In the ocean or on the land?"

The princess answered back, "I would love to live under water and meet all of your brothers! But there is only one problem, I can't live under water!"

The prince went to the sea witch and asked her politely if she could come to the main land and give his beautiful new wife some legs if he gave her his brain. The witch agreed and used her magical powers to come on land and give her some legs.

The princess finally got her legs and she and the prince had a happy life full of joy!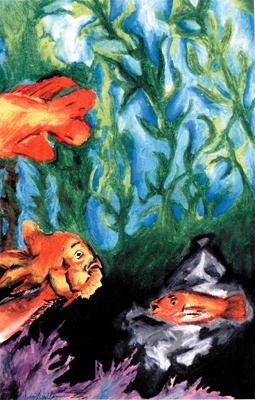 © Sara K., Coarsegold, CA