Wednesday at Midnight
May 29, 2012
Rae
In this world, we are not entirely free, the past keeps us chained to this unmoving dimension. Now that I am one of them, I am no longer afraid of ghosts, those crystalline and translucent apparitions. I'm more fearful of what I'll have to face, of what will have to be uncovered from the dusty pictures of the past.

I'm standing at the front door of my large, suburban home, what had been my sanctuary when I was alive. The large door, which was as plain as paper, stood with a familiar patients. When I would turn the bronze medal door knob it meant being cocooned into a blanket of comfort.

The door is now wide open; the familiar warmth of my former life dangles fragments of the past teasingly. The smell of my mother's cooking, the sound of my brothers guitar booming throughout the house. Everything in my life had been safe and loving. But now it was just an illusion, a torturing mockery that never softened.

When I take the smallest steps into the front hallway, my memories begin to disappear. First the smell of mothers cooking begin to wither, then my brothers loud music begins to die out; the picture frames that hung on the wall evaporate, the furniture begins to shatter. Everything melts into nothing until I'm the only thing still standing in the living room. I picture my smiling family, and how the absence of them couldn't be more piercing.

He took this all away from me, I think. My killer robbed me of my life, and left me here in this cold world.

I don't remember actually shifting from life to death, from safe and content, to seething with anger and revenge.

I just remember the dark hooded figure materialize in front of me when I was walking home from school, and how a large knife slid from under his sleeve. That's all I can recall before I felt myself being lifted, all weight and senses softening, then I woke up here.

After I my death, I watched how my family grieved, how police and investigators searched for myself and my killer, and how the media followed the whole thing, placing my face on milk cartons and under the "Missing" posters. My killer fled across the country while my family moved away because they couldn't cope with the memories they had of me.

''Being angry isn't going to help, Rae," Says a wise and soft voice from behind me, "Try doing something about your death rather than pouting about it."

Forest Reeve is about my age, fifteen, tall with pearly black hair and emerald eyes. He handle's this after life thing with grace. Unlike me, he doesn't have a hot-blooded, fiery rage that motivates him. Forest taught me how to see the events unfold back on earth. Forgiveness holds him up, it's what could make me more aware and collective of my feelings. But right now, I'm not ready to be forgiving at all.

"You're able to see images in the Other World," Forest says, "Wouldn't you like to see something good happening down there?" He asks motivationally.

"Of course I would," I reply, "his murders won't stop with me." Desperation creeps into my voice, "I don't want to see another innocent's child's face on a milk carton."

Just then, an image appears on the living room wall. Like a blotch of wet paint on thin paper, the image begins to spread across the white wall.

The picture shows my killer settling in a cozy hotel room, still keeping a low profile. He's supposed to continue running tomorrow, so within a few weeks he'll be out of the county. But before he's completely out of range, he wishes to kill one last time, and a young woman named Autumn is the perfect prey.

She is radiant and has a soft, glowing beauty, with long black hair, elegant pale skin and hazel eyes.

The image disperses right when I realize that is the girl he wants to kill.

There is a humble silence before Forest says, "Don't let your death be in vain."

"Alright, then we'll have to travel to wherever that girl is and warn her," I announce with determination, "Will you come with me?" I ask Forest, wanting him by my side.

"Of course, but this is your journey, Rae. I'll come with you, but I can't interfere." Forest tells me, like a parent warning it's child of the rules to a strict game.

Traveling is much different when you're dead. The universe seems to fast forward itself so you get somewhere much faster, and Forest and I are barley lifting a foot the whole way. When we get to our destination, I waste no time slipping into Autumns dreams and warning her of a man who wants to kill her. I consistently show Autumn images of my killer. He's typical looking, casual. Someone no one would suspect.

I am haunting Autumn, and she is a bit shaken and confused when she awakes, but I continue to show her the images to assure her they are more than just dreams. When she wakes with a start from what she thinks is a nightmare, I'm standing at the edge of her bed, darkness blanketing me. Now I look like a real ghost, I think to myself.

I keep an eye on the predator as well. The monster feels a familiar thirst that had once been quenched when he killed me, and a hunger that will only be satisfied through the slaughter of an innocent woman.

I'm hoping for the easiest, that I will push Autumn into going to the police and telling them of the mysterious man on her street. But something as easy as that is blessing compared to what really happens:

"I know it sounds insane," mumbles a flustered and frightened Autumn, as she tells a close friend, "But I really think I should go to the police like the girl in my dreams told me to. The images I'm experiencing are to vivid, to real. I think I even saw the girl, too, when I was awake."

Her friend gives her a reassuring look and puts her hand on Autumns shoulder, "I don't think you should go the police, Autumn. I'm not saying I don't believe you, but they won't. But even so, you can't believe everything in your nightmares."

That is precisely what the police told Autumn when she had had enough and listened to me. To be honest, I was kind of driving her to madness, forcing her to constantly think of the killer and I.

But Forest and I begin to worry when no one is taking action. With every moment, Autumn is becoming less safe, because my slayer is preparing to strike.

Autumn is walking home one night, stressed and fearful, when suddenly he appears, just like last time, from thin air. This is his last night in town before he leaves the country for good. But he is a wild beast, hungry, not leaving without one last kill.

Demons are dancing in his black eyes, and he crouches in an animal like position, ready to slaughter.

Just like his latest prey, a long knife slips from under his sleeve, he grips the knife with fury as he lunges towards Autumn and the weapon slips deeply into her heart.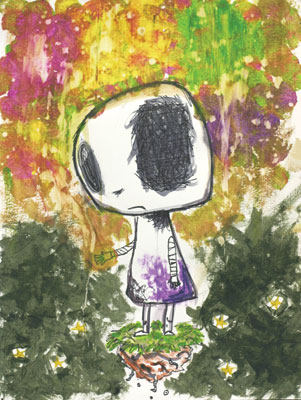 © Ashley W., Port Charlotte, FL