The Magic Closet
May 28, 2012
It was the most radiant Friday morning. The sun warmed my pale, white skin as I observed cheery daffodils line the concrete path. Like a bee, I was attracted by their beauty. I knelt down to smell them. Aaah. Just like my mom's favorite perfume. However, my little bit of fun was spoiled when I sensed Grandma Joan standing right behind me.
"What in the world are you doing in those rags?" I look down at my overalls and saw mud splattered in several different places. I met her gaze and decided not to answer, but rather looked embarrassed in front of her. Seconds later came a point where I could no longer take the sight of her folded arms and austere expression. Keeping a glum silence, I walked until I reached the end of the path and sank into a plastic chair. At my far right, I spotted a line of polished-looking gentlemen following an old minister. Once they were a clear five feet away from my face, they stopped. Moments afterward, graceful women floated down a narrow passageway and placed themselves toward my far left. From the two groups, I could pick out my Aunt Laura, my Uncle-to-be Sam, and my must-know-everything cousin Jennifer. Next came a long rehearsal of talking, exchanging vows, kissing, and whatever else they do at a time like this. I will be glad to tell you what the best part of that was: the end! Time to play! As soon as I grabbed Jennifer, I yanked her into an empty field as if I were dragging a kite into the wind. As soon as we began frolicking, she opened her sassy mouth.
"So what are you going to wear to the wedding?" Oh no. I felt as if my jaws had fallen out of my mouth. "What? You don't have anything?"
"It's a surprise," I replied, unable to admit the truth.
"Oh, come on! I hate surprises! Tell me! Please! Please!" I thought up my absolute dream dress.
"I'm going to wear a strapless dress. It goes down to about knee-height and it's this real fancy color called eau de nil."
The rest of that day trudged along into Saturday. Late in the morning, I decided to take a warm shower. I again felt the sun's comforting warmth against me, but I did not feel as energized as yesterday, for I was enclosed in a five-by-three foot area. And of course came an unpleasant disturbance. This time it was my mother.
"Get out of the shower!" Oh boy. I turned off the water. "Hurry up and change, or we're going to be late!" With my towel wrapped around me, I shuffled out of the bathroom, down the carpeted hallway, and into my room. I stepped inside my closet and searched for what to wear. Suddenly, I felt something funky going on with my towel. When I looked down, I realized it had mysteriously become a dress. I had no time to question this, for my mom was yelling at me to hurry up.
As soon as I got to the Manor, I was the center of attention. Everyone "oohed" and "aahed" and asked a bunch of questions like "Where did you get it?" and "How much it cost?" As interminable as the wedding seemed, it was even more dazzling. Seeing how happy everyone was made me feel the same. Before I left, I paid one more visit to the daffodils.
"I will see you again at my wedding," I told them.
I woke up early the next morning. Eagerly, I grabbed a towel, wrapped it around myself, and walked into the closet. When I let go, however, it merely dropped to the floor. Repeatedly, I wrapped the towel around me, but there were no more magical transformations into fabulous ball gowns.
"Maybe I'll just wear the dress I had on yesterday," I said to myself. Enthusiastically, I walked toward the chair only to find a light green towel hanging from it.
"This can't be!" I then saw a piece of paper on the floor. As I picked it up, I read the following.
My dear Sally,
I am so proud that you had the chance to wear something nice for your aunt's wedding. I put a spell on your closet so when you covered yourself with a linen, it would transform into a stunning gown. However, it was only temporary because I didn't want you to forget the importance of inner beauty. People in general will accept you as a friend by how well you treat them, not by how you look like. Even without the prettiest clothes, I hope you still feel beautiful in your own special way.
Best Wishes,
Anonymous
I did find out who Anonymous was. It was that woman who complained about my filthy overalls, Grandma Joan. She still hasn't told me how she performed that spell on my closet even though I continue to nag her about it. If she were under a gravestone in the cemetery, I would still holler "Hey! Answer my question!" I guess some people are not what they seem. Just when you think they're grouchy, old toads, they do something extraordinary for you like turning towels into gowns and reminding you what is really important.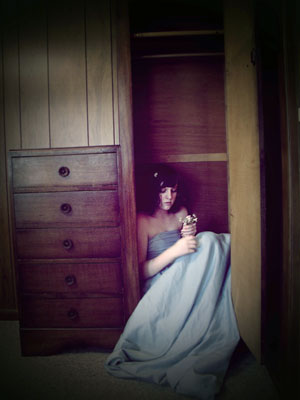 © London W., North Little Rock, AR