Freedom
May 15, 2012
Lost.
Not only afraid, but hungry. The pain was indescribable, uncontrollable, but in weird ways it felt good. The light of the full moon was bright, burning my eyes, but it was a good burn, a purgatory of some kind between death and rebirth.
This is my life now, an artistic rendering of fantasy and horror. A memory of intense pain, bleeding, screaming, a beast. A striped scar remains on my stomach, paired with a belly button ring, the remnants of a life that was. Left Behind. Dreams of Hollywood, late nights, drinking, football games and the mall, no longer a part of who I am. My life is new. I walk around with my secret hidden inside me. I want to burst, but against my better judgment, my instincts, I don't. Instincts, pulling in my stomach, stabs in my heart, the way I know how to keep my monstrous self hidden, how I understand survival, solitude.
It makes me dangerous, sleek, sexy; it makes me beautiful. My heightened hearing and sight make me a powerhouse, but only on subdued levels. I'm capable of so much more, but I can't release my inner monster on a whim. It's dangerous. My time of refuge comes once a month at the full moon. The orb of life that finally sets me free.
Freedom.
I can never truly have it. I'm bound to the flesh that makes me inadequate, incapable of being what I am. I want to let myself free, to break through my captivity, to let myself be the monster that completely engulfs my spirit, my being, my soul. When the full moon bathes the world in its glow, I am whole. I am a monster.

Monster.
The very word makes my body tingle, wanting to release the animal inside me. To Run. To Kill. There are more like me out there, in the world, suffering as I do. There must be. They feel the same way. I have to find them. To be whole we must be together. Together we can find a way to destroy the flesh that traps us, to enslave those who are scared of our power. I must go to find them, my brothers and sisters, we are all of the same fiber, the animal that overwhelms our senses is one in the same. We are all the same, we are a pack, we are wolves.

Wolves.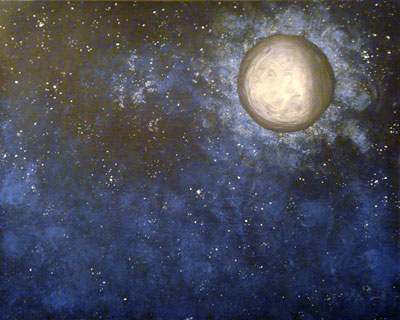 © Allison H., Vancouver, WA