Fade to nothing.
May 1, 2012
The sun shone callously; bathing everything in an ethereal glow; giving the world an exquisite, dreamlike quality. It was the kind of bright light that distorted a perfectly amiable vision into a double, multi colored blur. The voices came from faraway and in that one moment she felt like the only creature alive. The heat did not bother her, because she couldn't feel it anymore just like every other mundane emotion that brings more pain than pleasure. The feelings coursing through her were far more powerful, indescribable; she felt infinite and complete, like meeting a long lost friend or falling from the sky
.
She continued to climb even as the rock loomed dangerously, brimming with secrets, mysteries and even missing people. The dense trees covered it like soldiers, wise and solid. Nevertheless, she glided effortlessly, patting a branch every now and then. A beautiful figure clad in white, captivated by the mystical forest that roped her in.
She was entranced by the bittersweet spell cast by the woods that appeared so harmless on the surface, but were surreptitious on the inside.

She had never tasted freedom so profound, rejuvenating her battered soul and tired will. The restrictions were gone and so were the expectations that bound her to meaningless relations and fake affections. She knew she wasn't going back nor did anyone expect her to. It was too late for that, she knew too much and yet too little to confide in anyone. It was time for her to depart. She shed her clothes like old skin along with all the harsh memories that burnt a hole in her spirit.

It seemed as if time itself had halted for just a while, and wrapped it self around her; pulling consuming and savoring her very being. In a flash, she dissolved into an eerie white mist; soaring along with the wind, slipping into the cracks and being absorbed by the trees. She was home at last.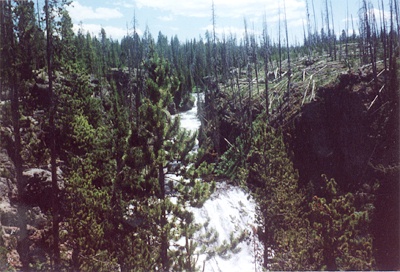 © Josh W., Peoria, AZ