The Angels
April 26, 2012
As I turned the corner around the rough, concrete wall, I noticed something much better, much grander than the tedious gathering inside. There, in the middle of the luscious green garden was a statue. Not just any ordinary statue you might see on the street; no, this statue was much different.
Upon exiting the large opulent party on the other side of the gate, I knew I was being followed by someone whom I haven't seen in a long while: Silence. As a young boy, I was frightened by Silence; I thought Silence only followed those who were lonely. However, as I grew older, I started to think of Silence as an old friend. Lately it seems I've never been able to find him, though. Yet, as I crept along the edge of the gate, Silence lurked behind me. I felt such gratitude that I had finally snuck away from the rambunctious, obnoxious and arrogant people from the party, that I failed to notice one important detail about the statue sitting right in front of me.
This immobile thinker, stuck in such a troubling position, caused my reflection on the event behind the iron fence to commence. The man made me ponder my decision on why I had actually arrived at this party. I never had the chance to answer my inner thoughts for I realized Silence had vanished once again, filling me with sudden grief. A fellow attendee rushed out and told me to return to the brilliant party for a game. As much as I so desperately wanted to stay out here and have Silence stand beside me once more so he could possibly help with my rumination, I plodded back to the dreadful celebration.
I met the owner of the commodious house along with his urbane family. The man continued to speak eloquently and after some time, he proved he was also fluent in seven languages. I looked around me, hoping the man whose name I had already forgotten would take the intimation and leave, and looked for someone I knew. He rambled on, seemingly oblivious. I sighed to myself, knowing it would be a long night.
The people around me verified that they were also quite supercilious in their shiny dresses, neatly pressed suits, gaudy pearls and other jewelry. Thankfully, some woman pulled the man away from me. Just as quickly, another woman ran up and enlightened me on the extensive details of her new shoes. After mind-numbing hours of senseless and futile activities, I returned to the structure sitting in the scarce light of the moon. I had, yet again, failed to perceive the slight discrepancy in his appearance. I could feel Silence coming closer, but the faint chatter of slightly intoxicated people overpowered him. I sat myself on the cold bench in front of the magnificent sculpture and mimicked his pose.
I heard a subtle noise behind me, almost as if the trees were whispering to one another; I unraveled my body from the uncomfortable position and looked around, but only spotted a few amicable weeping angel statues in the yard. I turned back to my new companion and found myself trying to solve my previous thoughts. Then I heard another sound behind me. I turned around, and for a brief moment, thought the angels had moved closer. But I quickly discarded the thought, knowing it was ridiculous.
"Who goes there?" I questioned aloud.
Silence had returned, I realized with a start, but the feeling in the air was not the usual one of comfort or ease.
I skimmed the area, half of my brain willing me to leave and never look back, but the other half telling me to stay. My breath started coming in short gasps, I felt similar to a fish out of water. My hands began shaking as I slowly stood up and held the back of the bench in a vise-like grip, not trusting my legs to keep me upright. I turned back to the statue and that's when I knew. I knew I was flirting with danger. The statues had been moving. And they were moving towards me.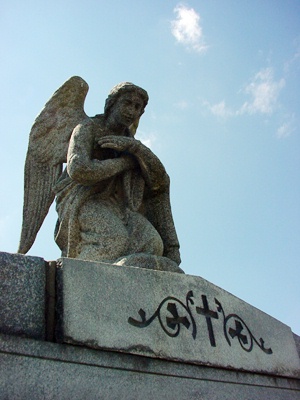 © Greg K., New Lenox, IL