Blind (Chapter 2)
April 26, 2012
Jackson was waiting for me by our usual lunch table filled with the cheerleaders and footballers. I mumbled curses and placed my poker face on when I reached him.
"Hey, we needa talk Karina." Jackson told me as I walked past him to put my stuff down on the table. I slightly turned around and eyed him uninterested.
"Let me look in my schedule and I'll let you know, k?" I snapped and turned back around to start a conversation with Brittany and Joseph.
"Now." Jackson said in an edgy voice.
I turned my heel and started laughing at how serious he looked. "For real? Okay. Umm how about in two thousand years? Does that sound good enough?"
"Why can't you be serious about someone?" He finally spoke the truth. I heard my friends make sounds like if he burned me but I shook my head.
"Fine, you want to talk? Okay follow me." I told him with a smile and led him into the science building where the hallways were cleared.
I eyed him waiting for what he was going to say next but all he did was stay quiet. Starting to walk away, I began to hum a song to make it loud.
"Why can't you be serious with someone?" Jackson asked me after a few minutes. I stopped moving and took in a deep breath.

When I turned to face him, I felt my heart squeeze into a small ball. He had started crying but I couldn't let it get the best of me. I needed to maintain my reputation.
"Because no guy is worth it. I made it clear to you the day I agreed to date you. I told you I wasn't going to settle down, and that never meant I'm going to go around with different guys."
"Uh huh. Keep it up and no body is going to like you anymore because you're smash material." He said and walked past me in a rush.

I cracked my knuckles and began to pace. How did I let this get the best of me when I was supposed to be strong and invincible? It was wrong but I couldn't hide my feelings at this moment, not when—

"You're just scared of getting heart broken." I heard a familiar voice from the lockers behind me.

"What the hell are you doing here?" I snapped while wiping my tears away when I saw Rudy.

"I heard you cry and I wanted to see if you were okay." He said while looking past my left shoulder. I snapped my fingers to call for his attention but he ended up looking past my right shoulder this time. He wouldn't meet my eyes and that made me squirm.

"Why don't you look at me?" I asked him with a half smile.

It seemed as if he saw me smile and decided to make one of his own. I could see perfect teeth surrounded by the perfect pink lips that seemed inviting to me. I looked at what he was wearing and smiled. Dark skinny jeans with a Californian flag tank top and high Nike socks with black and white converse. His long eyelashes seemed like a butterfly spreading its wings by the way they blinked when he smiled.

"I can't see you." He said with a smirk. I laughed and approached him with a few giggles until I was a few inches away from the most beautiful hazel eyes in the world.

"Can you see me now?" I asked him before smirking a bit.

"I can see your beauty." He whispered softly. His sweet breath blew into my face like fresh water. I wanted to drown in it forever and just forget the world.

"How do I look then?" I insisted with eagerness to know what he thought about me.

"I see that you're very strong, stubborn, caring, respectful and materialistic." He told me softly with a crooked smile.

"Oh. Are you the type of guy that goes for the personality and then looks?" I mumbled taking a step back.

"I can't go for something I can't see." He whispered as he walked past me slowly watching his step in a flat surface.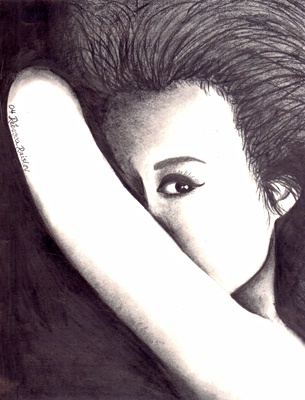 © Rebecca R., Edison, NJ