Angel Wings
March 23, 2012
Chapter 1

"No fair! You know I can't play pool", yelled my friend Yue as I sunk the solid blue ball into a corner pit.
"You're the one who came up with the idea to come here. Maybe you should think things through more often", I replied. Yue isn't always the brightest person, but I got to love her. Yue gazed around the room and her gaze settled on a guy leaning against the wall in the corner. He had black jeans and a black tee shirt on. I couldn't see his face, but he was wearing a black beanie on his head.
"Ohh.. Be right back", Yue cooed with a smile. I just laughed and stared at her back as she left me all alone. In the middle of a bar. All by myself now. Whenever Yue says she'll be back, she never comes back. I sighed and started for the door. Before I left, I looked back in Yue's direction and saw that she had started talking to that guy leaning against the wall in with his arms crossed.
He lifted his head just enough to look at me with ice cold blue eyes. They looked stone hard, almost like a killer's. I shivered and walk out the door, listening to the little bell chime as I pushed on the door. I remember my grandma always telling me stories about how an angel gets their wings whenever a bell rings. She said that was my favorite story when I was little.

As I walked down the sidewalk, I took in a deep breath of chilly fall air. I don't know why, but there is just a certain smell to Wisconsin that I love.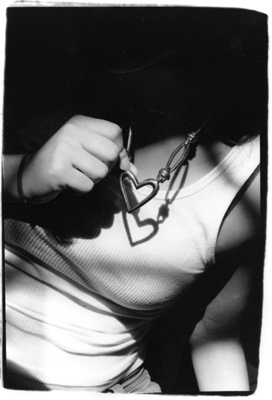 © Julia R., Bethesda, MD