2020 and US
March 13, 2012
Jumping from my hiding place, I ran as far as I could from my prison. Ever since 2020 hit, all rebellious children were to be thrown into cells until hey hit the tender age of 18. They could advance to adulthood, and then put into some dead end job for the rest of their life. I'm one of those rebellious kids. My name's Summers. I used to live with my parents, June and Andrew; but it's not like after I escape I can return to them though. They're dead now; the Leader of this wretched place murdered them. Ducking from pillar, to pillar, I was able to saunter out of the cells, unseen by most guards. The guards that did see me just turned a blind eye, and I smiled knowing they were with, or bribed, by US. "US" stood for United Safety. It was a kid resistance, and I was the leader. Sadly, I am usually the one to put myself out there, and when I did, I kept a few Benjamin Franklins just incase- it's just amazing how a dead guy can be so persuasive.
Walking back into broad daylight, I dived for a near by rock. Before this happened, my friends and I had installed a tracking device on this very rock. Quickly, I clicked a couple of buttons, and the tracker gave me a small holographic image of the geography around me. I knew that it hadn't changed much from the last time I checked this rock, which was only a week ago, but I could never be too sure. Closing the tracker, I stood up, wiping my hands on my ripped jeans, and walked to the US headquarters in tip-top shape. As I arrived, everyone crowed me, crushing my lungs with bear hugs, and giving me a shower with wet kisses on the cheeks. I told second in command, Gordon, to check the Leader's whereabouts, and he responding with a cheerful twenty miles south. Good, because I needed rest. Before the words left my mouth, I felt the pressure drop. I knew exactly what it meant, so I yelled, "ABANDON HQ! WE'RE BEING ATTACKED!" Kids jumped out of windows, and the door, quickly leaving the HQ. Being the "oh-so-brave" leader I was, I pulled Gordon out the front door and pressed our bodies on to the ground right as I heard the deafening BOOM! With Gordon under me, I knew he was safe from the shrapnel that cascaded over me, and made direct hits on my legs. When the concrete ceased to fly, I peeled myself off on Gordon, helping him up. He had a cut on his left cheek, but was fine other wise.

"Stop! In the name of the Law!" A male voice called from behind me. Slowly, I turned to face a broad man in a black suit, and black sunglasses. Scowling, I grabbed Gordon, making a run. Before it could be done, two men snuck out from the black shadows, covered with ashes. I was so stupid; of course it was a trap. I had gotten out of the prison way too easy. I was just too naive and arrogant to take notice. I slowly raised my hand above my head, admitting defeat. At least the rest of the crew got out safely. Gordon did the same, and we were carted off to prison. Only this time, I knew I had gone too far. I was to be killed by the Leader as soon as he could get his large beefy hands on me. I bet he'd like that.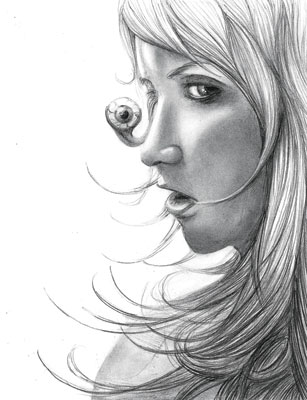 © Jessica P., Bethel Park, PA