Answers Unknown
February 11, 2012
It is the flicker of a shadow on the wall, the goosebumps crawling up your flesh, the unnatural heaviness of the air, and the terrible silence pounding in your ears.

Twisted emotions snake through your every thought, confusing your ability to differentiate between the right and wrong paths. Are they now equal?

Your eyes cloud over and your breath is constricted violently against your will. Your world is turned upside down recklessly, or is that your mind? You have fallen backwards, forced to retreat to the depths of your soul.

The blinding darkness is suffocating, blocking out life itself. Yet, there is a light. There must always be light- and life. It lashes out, striking the resistant void.

It overcomes the mental darkness, the paralyzing fear, and you can breathe again. Beginning as you were before this terror consumed you.

Had that all been an illusion? A vision? A dream? But this is irrelevant, as it did happen in some realm: physical, mental, spiritual.

You let reality regain control, cautiously slipping back into consciousness, though still with a sense of dread that the tearing fear will return once again to curl its fist of doubt around your mind.

Its desire is for you, and it will stop at nothing. Can it be opposed? Can it be defeated? Answers unknown, questions left alone… so many are taken, oblivious of the perilous force, then celebratory in its triumph over them.

But you are strong. You are defiant. You will fight. And you will emerge victorious.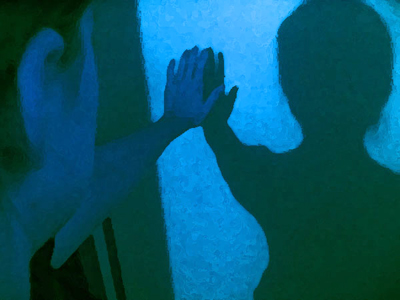 © Katie C., Libertyville, IA