Point of View
December 16, 2011
If things would stay normal, the thick stone wall above the gates of Hell would only say, "Welcome" as if we were welcoming. However, today, something else is there in red spray paint, "Satan is dead."
I stand beside Apophis, a mere snake in the land of the living. Here, he is a full fledged man, almost twice the size I am. His green scales run down the outside of his arms and legs. Without a shirt, I see his back is just as covered.
"Isn't thisss pleassent?" He grumbles, sarcastically as I watch spit fly off his lips. I don't comment and he motions outside the gates, where the newcomers have lined up. I see them behind the larger than any life iron gates. Through them, these people will cross the bridge Apophis and I stand on, when they come to a different passage, taking them wherever they have to go.
For now though, the people are hopefully whispering back and forth. The whispers are growing loud enough to be a roar. My stomach wrenches from nerves. Apophis doesn't have the same reaction, rolling his golden eyes around his tiny slits. "They're ssso happy. What do they have to ccelebrate about?"
"You don't think he's dead?" I wonder.
"And you do?" He throws back without missing a beat. "Sssshouldn't you know?" He hisses at me in his aggravation, a habit of his.
It's true. I'm not a demon or a devil, but Master Satan did grant me the power to be aware of him, what he needs and if he's beckoning me. You could say I'm his assistant…
I'm not entirely aware what year it is now, but I died in 1963. I ended up here at the gates. Back then, it seemed like a monster made only out of razor sharp teeth. When it was my turn to sign in, they asked what I did to get here, yet, I didn't have an answer. I don't remember why I'm here. Master Satan overheard that and laughed. He just said, "That's fun." He took me in and gave me this job for some entertainment.
"Well?" Apophis pushes, impatiently, "Do you sssensse him?"
There's so many questions right now. All there are is questions. I hope I have an answer. I step away from Apophis, mainly because he's making me nervous and close my eyes. Normally, I'd feel heat radiating where my heart once was. I'm still a moment… nothing. I'm empty, no fire, no heart or beat.
"I can't," I blubber, bewildered, hitting my chest to see if I can kick start something, "I can't-"
"You can't what?!"
A snigger crawls in the air impishly for a moment. Coated in wicked ways, a voice speaks next to my ear, "Today is certainly exciting."
Surprised, a jolt shoots under my skin, from my arms to my toes and I spin around. "Master Satan!" I yelp, "You're alive!" Standing there is a figure of a man. The figure is black like oil while his eyes are walnut shaped and the color of gasoline. Opening his mouth is like pulling apart sludge, strings of it stay together when only pieces stay apart.
"I knew it," Apophis snickered, smugly. He crosses his arms and gives me this haughty look I want to smack off.
"Of course I'm alive," Master Satan shrugs, completely complacent.
I'm flabbergasted. Desperately, I throw my finger to the sign, "What is this then?!"
He glances over to it and all he can say is, "Oh."
I frown and the moment he notices it, Master Satan chortles. "Calm down. I have no need to worry about it so neither do you?"
I'm still not getting it. Call me dumb or just too human, but I need a little more.Stubbornly, I hold my ground, "But why?"
In that same wicked white smile, he tells me, "Things like this happen all the time. People try to create hope out of something hopeless, even if it's a lie."
Suddenly melancholic, I feel a heavy weight on my chest. "So, someone made that up to make people think they're going to be okay?"
"Exactly."
Exactly, he says. Behind my thoughts, I hear Apophis mock and laugh at the people, but I disagree. I think that small amount of hope, that tiny glint of light that flickered in their eyes will take them farther than any amount of darkness inside them. The light is easier to walk through than the dark.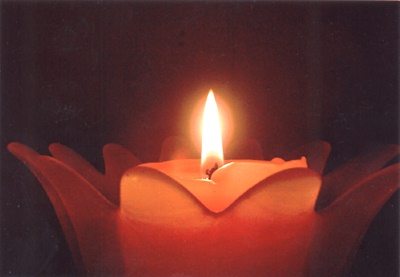 © Sayda, C., No. Bergen, NJ