Of Biblical Proportions
January 11, 2012
The lights were high in the sky, crossing through the clouds and shimmering to the ground. The beams of light fell upon the girl. She was stretched atop the grass, her eyes closed, her breathing slow. She basked in the sun and, with grace, flipped herself over. She stood, wiping her hands on her tattered shorts, pulling her tank top down from where it had risen on her waist. She pulled her hair into a bun on top of her head. She seemed normal at first, but she was doomed with a terrible curse.
She kept herself away from human kind. She didn't dare subject them to her own perils. She destroyed what she touched, destroyed what she looked at. She had decided long ago to separate herself from society, prevent the rest of the world from sharing in the pain and bitterness of her life. She cried often, but that didn't help anything. Nothing could help. Anytime she looked at someone, they turned to salt.
Yes, a curse of biblical proportions, she often laughed to herself. Course, the laughing fell to despair rather quickly, but that bit of laughing was enough to get her through the day.
She raised her arms above her head, clasping her hands and stretching her back. She bent over, the sun grazing her back.
This was where she lived now, the middle of a field, separated from everything. She didn't particularly mind most of the time, not until she thought about what she was missing. She hadn't spent any of her childhood in normal society. After crystallizing her mother, she had been sent away, locked in a tower. She saw no one. Food came in through a slot in her door. She had books, but nothing else. One day, the food stopped coming to her. After a few days, she broke from her prison. There was nothing there, nothing and no one. She ran her fingers through her hair and began to walk. Her stone prison was covered with moss, growing vines. She looked up, looked at the window flung open, the window that had been her only salvation. She turned and began to walk.
She found her field, she found food. And that was where she lived.

Once she had gone back to her tower to retrieve her books, her only semblance of a connection with the outside world. Everything she had, she had memorized, but she didn't care. She wrote herself into the books, interacting with the characters, living their lives. And she thought about what she was missing. And it made her happy. And it broke her heart.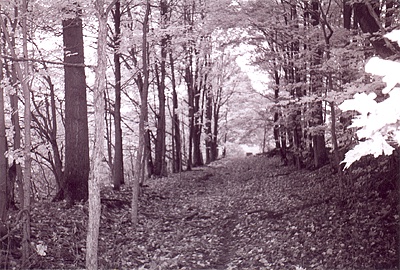 © Casey P., Howard, OH