The Adventures of Alex and Bethany: Book one: Witch Training: Chapter one
January 11, 2012
Homecoming
The hallways were pitch black. The empty school building was completely scary for Alexandra. Alex would not be here if her friends had sent her a text telling her to be at the school at a certain time. Alex continued to walk down the dark hallway until something reached out and grabbed her.
Alex was suddenly yanked out of the hallway and thrown into dark. dark room. Then suddenly the lights popped on and standing in the room was a mysterious man with a girl that kind of looked like her.
"Alexandra, this is Bethany. She is your long lost sister. She has been missing from your family for many years this is why your parents did not tell you about her" the man said.
"Where did she disappear to?" Alex replied
"She was in training" he said back.
"Training for what?" Alex asked.
"Witch training" he answered " tale her to your house and tell your parents that 'he sent her with me' if they ask."
After he spoke those words, he ordered them out and they got up and left the room.
When the girls arrived at home, Alex's mom was starting to leave the kitchen with supper. She stopped and dropped the plates when she saw Bethany with Alex.
"Bethany, what are you doing here?" Alex's mom said
When Bethany didn't answer, she turned to Alex. "Where did you find her?"

"He sent her home with me when I was at school." Alex replied.

After the conversation Alex went up to her room. Leaving Bethany and her mother to clean up the mess.
She was just about to call her friend when the man started to knock on her bedroom window. She let the man in and he started to tell her that he was going to take her away in a few days for her witch training.He also told her that Bethany would have to take her place and also would have to play her until she got back. he said that Bethany would have to real careful in case that any of Alex's friends figured out that Bethany is an impostor.
"She has to be careful for when you actually come back." He said
After those words he left the house.
Alex started to leave the room when she bumped into Bethany.
"I was just coming to talk to you" Alex said.
"I was just coming to talk to you, actually" Bethany replied. "What did you want to talk to me about?"
After Bethany finished, Alex explained to her that she was going to be taken away. she also said that Bethany would have to take her place until she got back from wherever this man. Bethany nodded and agreed to the situation.
Three days later Alex disappeared.
"It has been five weeks since Alex disappeared" Bethany told herself while she was sitting at Alex's desk. "I wonder how long it will take"
"Wonder how long it will take for what" Her mother asked as she entered the room.
"You what I'm talking about" Bethany replied
"Oh yeah" she said "have you finished looking for Alex might be, Beth?"
"Not yet, but I have an idea where she might be." Bethany said
"Well okay, I'll leave you to it." Her mother said as she left the room.
Meanwhile, Alex was trying to escape this witch camp and get back to her life. She had no way of contacting her friends or family because they got their phones taken away when they entered camp.
Alex continued to walk down the halls of the camp building, trying to find someway to contact anybody outside of camp.

"Alexandra, this way please" a voice called out in the distance, "You are ready to leave camp. To get out follow the man that brought you here, and he'll show the way home."
Alex began to walk back to her dorm, when she got stopped by (of course) the man.

"Right this way, Alex" he said and pointed to another hall filled with darkness.

They continued walking until they came to a stand still. He opened a door and the man and Alex and stepped into another area of the camp.

"Where are we going?" Alex asked

"You'll see" the man replied.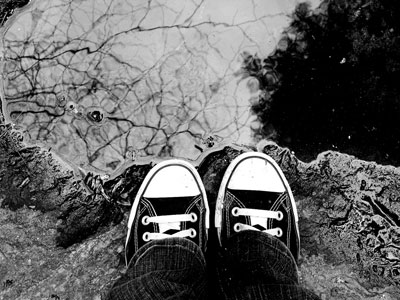 © Michelle B., Blairsville, GA