The Cleansing (Formerly called The Rain)
November 18, 2011
One day, it vanished. Every single piece of trash on earth disappeared. Trash cans, garbage trucks, landfills, ditches, and every other place on earth was now free from trash. The world now had a clean refreshing feel to it. People still accumulated trash, but it vanished before their eyes.
A rusty old snot green 1987 mustang, looking similar to an oddly shaped box on wheels roared down I-95 and the driver (who must've been in his mid-twenties) threw his now empty Pepsi can out the window. With a bright flash, it vanished as it hit the hot black top! The car roared on, and the Pepsi can was just a distant memory to the driver.
The next day the people awoke to a sunny world with a cool breeze, and the waves crashing on the beaches. A calm and peaceful day followed by a beautifully relaxing night. The next week peoples moods began to change and the "Scrooges" of the world were now joyous and friendly. A week later the beautiful planet was still beautiful. With glorious rainbows and calm rain showers, people just could not get any happier. And even forty days after this odd miracle began, life was still simply amazing. People awoke and families jogged together. Nearly everyone in Venice, Italy enjoyed a brunch together. A world where all hate and wars ceased to exist, they lived in harmony. People lived in joy and peace, without conflict for an entire 40 days; each one was filled with loving activities and nothing but smiles and good intentions.
Then one morning, the people of the world awoke to a beautiful rain fall. After ten minutes of rain, it began to pour and storm. People were in fear, for they had not heard thunder in over forty days. Then, just like it never happened, the rain stopped. And people were joyous until, it began to rain again. Only, this was not pure and refreshing rain water, it was all of the trash that had once disappeared. People were being smashed by old cars and furniture that was falling from the sky. Others were buried in mounds of rotten leftovers, and this great rain continued. After a full day of complete slaughter in the world, the presidents of every country declared it a worldwide emergency. On the third day people began to search for old bomb shelters and strong basements but these places were no match for the flaming cars and furniture falling from the skies. Day after day the trash piled up, and so did the bodies. The military attempted to shoot the trash out of the sky but they only made more pieces that would destroy the human race.
After twenty days people were lost in a world of wretched terror and the world's population had now been cut in half. The rivers ran red with blood and were polluted with old Coke cans and Little Debbie snack boxes. All work in the world ceased to exist. Twenty days later the rain still crushed the lives of millions and the suicide rate increased (due to the fact that no one wants to die by getting crushed by an ice cream truck) and soon, there was no life left on earth.
Forty days of peace and harmony, followed by forty days of apocalyptic madness left the world in shreds, all life had ceased and now, our planet was now covered in piles of trash and human bodies stacked a hundred feet high. Then, in the blink of an eye, it disappeared. And a new era of human life began, and slowly but surely over several hundred years, the trash built up again. Life went on just like it was before the cleansing, until… One day, it vanished. Every single piece of trash on earth disappeared.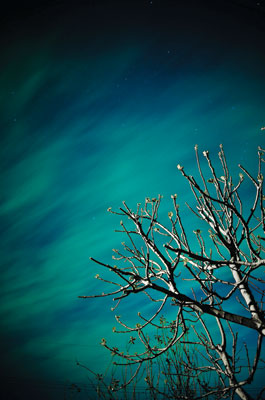 © Chyi-Dean S., North Tustin, CA