Walking Barefoot
November 18, 2011
I had wished it was different. When I died, I knew I had lived my life wrong. I wanted a second chance and that semi had smeared my car. That little Mitsubishi was done for. I remember glass falling like new snow; it glimmered and danced in the headlights. My cello recital from when I was thirteen played through my head real slow; I was watching myself play. Bach rang out in the scene in front of me, music notes dancing with falling, shimmering glass, each roll of the car almost graceful. It was beautiful.

The end of my song came, and so did my life. I was dead before the paramedics showed up; loss of blood in my head along with broken ribs and internal bleeding. The funny thing was, I loved it. I loved the feeling of death. The air around me reeked of it. My last breaths had sucked it in like a drug. Death was easy; my knight in shining armor. It scooped me up and carried me out of the pathetic trials of unforgiving life.

I saw "the light." It wasn't as everyone had described it. Mine was little and dim; a flickering candle floating in the middle of a vast, black ocean. Although I loved the feeling of forgetting and letting go, I clung my eyes to the little shining candle. I wanted the flame to be a burned imprint in my green eyes; to never go out, stay with me forever. It was so quiet; a song I had played not too long ago was drifting in the background. I could feel the regular, constant movements of my hands making the notes on the page come to life. I remembered that song. I closed my eyes only for a moment, the image of the flickering candle still burning behind my eyelids. When I opened my eyes, the candle was gone. A never ending shoreline replaced it; waves an unending motion, my song still playing, and I began walking, barefoot in the sand.

The beach was disgustingly beautiful, with sand in grains so tiny it was like stepping through clouds. As far as the eye could see, shoreline, water, and sand. Little shells decorated the beach; hugging scattered driftwood. There were no broken bottles, no cigarette butts, and no dog cr**. I could walk without watching my feet; only watching the distance in front of me. The scenery filled my eyes and flooded my brain with calming beauty. The sun set gently over the edge of the water; kissing my cheek good night. I closed my eyes and the candle still bared its flickering yellow flame.

A light breeze blew my hair behind my shoulders, a brown curtain catching the last bits of sun. Red highlights caught the glare and shimmered at the presence of sunlight. My green eyes shot back the colors and power of the sea. I wore the jean cut-offs that tickled my tanned legs with frayed white fabric. A thin, breezy white cover-up sweater concealed my very visible green bikini underneath. These were the clothes I was wearing when I died, except no shoes, only blue toenails and bare feet. I felt gorgeous, like a magazine-girl. It was amazing. Death made you feel the way you always wished you had.

My skin prickled with excitement as I strolled the sandy, wave-stained shoreline; attempting to own it. I wanted it to last forever.

The stars peaked out from an indigo sky. Cloudless scenery perfected the mural above my head, a crescent moon brightened my shoreline, and I kept walking. The night folded in and I wanted to see it all; all of the incredible beauty that stretched on in infinity before me. I wanted ocean spray to kiss my skin and shooting stars to grant all my wishes. The feelings of joy and overwhelming happiness poured out of me into my aura. My dark legs carried me forever with my footprints the only part of me left behind and only to be swept away with the soft pull of salt water waves; erasing my very existence after each step. I was never there. A smile spread across my face with true pleasure. My white teeth reflected the moon and I knew I was glowing. I owned this beach and all I wanted was to keep walking, to see my whole wonderful kingdom.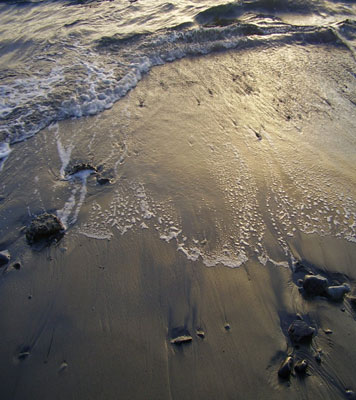 © Tori W., Victoria, BC, Canada