The Afterlife:Entry One
October 1, 2011
My death wasn't the most pleasant, but I suppose it could have been worse. It can always be worse. I wish I could have changed that day. I often ponder all the ideas that would have given me a different result. But I'm not sure if the location, date, or time, would have stopped what was coming. Although, I shouldn't have went into the woods with him. I pushed against my gut because I didn't want him to hurt himself. The purpose of this trip became very clear. He thought he was ending my suffering, and that we would be free. To listen to him speak about things that didnt make any sense was terrifying. There was a struggle, and then I ran. I ran and I ran, with no destination in mind. I just needed to get away. I ran until I heard cracking all around me. As panic set in, I saw him about two feet away, safe from the fragile ice. I wanted him to help me. I begged him to help me, but there was no sanity left in those brown eyes. Yet he smiled with his arms to his side, one hand holding a gun. All he simply said was, "It'll all be over soon, Lilly."

I took my last step as that fragile ice collapsed underneath me, and I went with it. The sound of water was all I could hear. I frantically searched for an opening, but I felt more ice. Every hit grew weaker and weaker. My lungs were given the tightest of hugs. My eyes burned. I always imagined dying old and peacefully, but the cold liquid felt like tiny daggers all over my body. I couldn't speak, I couldn't scream. Everything just eventually faded to black.

The next thing I knew, I was beside him and he was putting the gun inside his mouth. I wanted to stop him, but none of it felt right. I felt different, and he didn't acknowledge my presence. I witnessed his suicide, like he witnessed my death. That was the beginning of my new journey. My Afterlife.


An out of body experience creates the eeriest of feelings. Suddenly You're on the outside looking in. when this out of body experience is a permanent state, your observation skills transform into perfection. You can follow a person for days, weeks, and become a part of their lives. You know their daily routines, the way they like their coffee, their favorite hobbies, and the secrets they choose to keep from others. Behind closed doors, the façade they worked so hard to show, goes down the drain as they wash their face. I guess it seems wrong to invade someone's life like that. But I don't have much to do since I lost mine.

It was quite difficult to swallow the facts, at first. I mean everything that I was is gone. I half-heartedly expected to see a bright light, and that I would walk into my eternal bliss. None of that happened. I'm still here on Earth, without actually being here. It used to anger me, but I had to accept that this is how it will be from now. Don't get me wrong, it's a lonely path to be on but theres not much of a choice. Besides, being dead does have its perks. I don't have to listen to anyone again. I don't have to worry about failing or succeeding. I get to play tricks on unsuspecting citizens. I can go anywhere, and I mean anywhere. All I have to do is think of the location, and I'm there. From the North Pole to the Eiffel Tower…the world is mine. There's far too many places for me to become bored. I have all the time in the world.

My most favorite thing to do is follow people. It makes me feel like Im really there, you know. Currently I stay with Melanie Blanchard. Shes a thirty-three year old bank teller, single mother of two. She works a lot, too much in my opinion. She always finds time to spend with Amy and Jacob, though. She doesn't remind me of my mother, which is a good thing. Usually I stay with someone for maybe a week, but Melanie is different. I admire her strength, her beauty, her kindness. I love to watch her bake her delicious brownies that she takes to the homeless shelter every Sunday evening. There's not one person that didn't have their day made by her. I know I shouldn't get attached. When we sit on the navy blue sofa watching tv, I know she can't hear me laugh with her. I know this isn't my family, but it feels like home. Like all children, hers can see me when I make myself known. which is pretty cool. We often play tag and compete to see who can make the weirdest face. Melanie thinks they created some imaginary friend, that its all pretend. Sometimes when I touch her soft black hair, she shudders. Maybe deep down inside, she knows I'm there.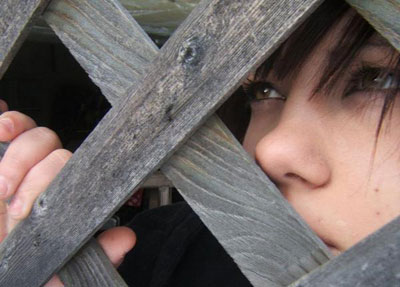 © Krystal B., Bloomingdale , IL