The Girl in the Mirror
September 7, 2011
What if I told you that there was something in the mirror?
I see it; something that looks like you, and smiles like you, but never really is you. It stares at me and puts makeup on, tells itself that it is ready for this, whatever 'this' is. It gives itself motivation to do things that it is worried about. It brushes its teeth and fixes its hair in front of me. It doesn't know I'm there.
Do you know I'm there? Can you see me? I doubt it, because it's them I see. The outer images, the false frowns and smiles. I see your other, outer self looking at me, putting on its masks of foundation and blush in front of me. It is sure of itself, falsely giving itself hope that it will get the job or make the grade.
And that's how I know this is not truly you. You're not strong, you're not confident. You're shaking on the inside, worried about your life. I see it in your eyes, the one true gateway to the person I know is real. You're on the verge of tears; you think that you are a failure.
You're just hiding...hiding behind that other person you don't even know about. I wish you wouldn't hide. If so, I might actually meet someone, a real person.
But I bet you didn't know there is something else near you.
It's me, the girl in the mirror. The person looking at you while you try to make yourself look confident. I'm there. I'm watching, waiting for someone to see me. To reach out to me. To save me. I watch life; I want life. Will you see me? Will you stretch through the mirror and touch me? Will you save me before I'm stuck in this lifeless world forever? But first, how about seeing me? Can you look beyond this mirror of mine and this outer shell of yours to get to me, to help me?
No, you can't. You just look at yourself, see the reflection. The outer shell, the other being...you can't look past it, and I'm screaming for you to see me by the time you done making yourself pretty and start walking away. But you can't hear me either, and I cannot fathom why. Maybe you're listening to music, or maybe your thoughts are too loud, but you just don't notice me. You can't hear my screams.
And you walk away, not knowing that anyone had watched you. But someone did: me. The girl in the mirror, watching, waiting, and hoping that someday, someone will let me out.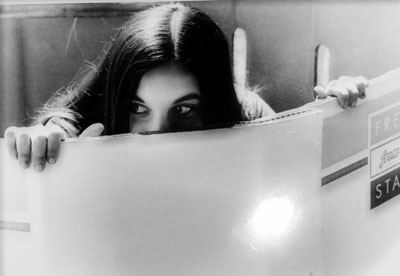 © Sarah S., Winter Park, FL