Experiment City 32
August 4, 2011
"Thomas brought this upon himself. Independence like his cannot be tolerated in the formation of a whole being." Standing on the edge of the building, Alex caught her breath and tried to think rationally. coulddn't get these words out of her head. Independence like his cannot be tolerated. Her mind kept playing tricks on her to the point that she wasn't even aware of which reality she was living in. But that was besides the point, wherever she was right now, she knew she couldn't continue living there. couldd not stand another day in this life. It was time to make a choice and live with the consequences.


YESTERDAY

"I have to run by the Sovereign's office before the third meal today. I'll meet you at the EDC at six," Teresa Jones was telling her daughter Alex on her way out. The Eating Distribution Center, called EDC for short, was evenly located 1 mile from every house in Experiment City 32. In Experiment City 32, it's important that everyone is equal, all the way down to trivial things such as the distance to the town center . The town is set up like a large circle and every family unit is equidistant from each other along the rim of the circle.

Walking into town twenty minutes later, Alex looked at the identical homes and the identical people she passed. She only knew her family unit was hers because of the sound of their voices. In Experiment City 32, there is no conflict based on appearances because everyone looks the same. Each family unit is made up of a mother figure, a father figure, and two children; there will never be a legal advantage for anyone who claims they have no family because each person is assigned one.

Alex met up with her family unit in the cafeteria portion of the EDC and they listened patiently to the announcements read off by the Elected Reader, a new man name Steve.

"In other news,the speech given by the former Elected Reader has been officially classified as treason. He and his conspiring family were eliminated this morning." All of the people, shaking their heads condescendingly, replied in sync, "To oppose the General Will is to be an enemy of the people."

After they chanted their mantra, the unaffected people continued listening to the announcements. Someone in the back stood up and cried, "It's not fair! You people are drones!!" Shortly after, he was escorted out side by the Elected Force. The outburst was caused by one of Alex's friends named Thomas. Alex watched the scene, locking eyes with Thomas, while the rest of the town had already returned to their meals. As she contemplated the scene, she realized the built-in light on her leg was burning. This lght belonged to a Safety Monitor that everyone in Experiment City 32 had right underneath their skin, the Sovereign claimed that it was there for nonstop protection against opposers of the State. The people of Experiment City 32 do not question the actions of the Elected Force. They have been conditioned to believe that all actions of the state are in their best interests. The citizens of Experiment City 32 also believe that those who oppose the General Will should be compelled by force to obey it and if they continue to go against the wants of the people, they can rightfully be eliminated.

After the meal, the people of Experiment City 32 went to enjoy their nightly walk. It was now exactly 7:30 and the sun was setting, as it does every night. Alex was making her way to the Recreational Activities Building when she heard a strangely wonderful noise coming from around the back of the building. In Alex's head, like all of the citizens of Experiment City 32, there was a loud voice telling her to ignore the abnormal noise and continue her walk with the people because according to the General Will, everyone wanted to walk. However, for the first time in Alex's head, there was a smaller voice telling her to investigate. As the community kept walking mindlessly around the town center, Alex quickly slipped behind the Recreational Activities Building and caught her breath.

"I knew you would hear me calling," a familiar, but distant voice whispered from behind a shadow. Moving closer, Alex could recognize that the person speaking to her was her friend..

"Thomas, what're you doing here?" She knew he had been taken away and according to the mindset of a citizen of Experiment City 32, he was already dead to her.

"I told them I had a momentary lapse of judgement." Everything about Thomas's voice was sarcastic. "Besides, you aren't supposed to be here either."

"Well, I thought I heard..." Alex trailed off. She wanted to explain, but she couldn't find the words to express the true reason she broke from the group. She knew that is was a mistake and that there would be serious consequences but the beautiful noise had been calling to her.

"I knew you would be able to hear it. It was beautiful, right? What you heard was music. It's not allowed here because that form of expression is seen as a threat to the General Will. Too much controversy." Alex wasn't really sure what was happening but she could hear the longing inflection in Thomas's voice.

"Where did you get the music? How can I hear it?" There were so many questions that Alex had. She took a deep breath and debated whether or not Thomas was sane. She had never even heard of a thing called music, let alone heard it for herself. She knew that it was customary in Experiment City 32 to never express personal thoughts in case it offended that public and she agreed with this policy.

Thomas started to explain how many ideas and rights he believed Experiment City 32 was missing, but Alex didn't grasp any of it. She tried to convince him that he was crazy and that if anyone found out that he was spreading rumors of the Sovereign committing wrong doings he would surely be eliminated on the spot.

"Honestly, Alex, I know you must've wondered if there was anything more outside of this place. You must have wanted to go explore or just make your own choice for once."

"Actually no. I know the General Will is for my own good. They are helping all of us, no harm can come from this."

Thomas had always been a good friend of Alex's but right now he was acting crazy. He wanted to run away, he said, and on his way out, he wanted to burn the city. He said he couldn't conform anymore and that the General Will was killing him. Alex hadn't understood at the time, she was content in her life, her wishes and the actions of the General Will were one and the same. Her purpose was being fulfilled and it was clear that this was the best way to live her life. She tried to convince Thomas that he needed to conform to the General Will because if he didn't, he would be infringing on everyone else's life and that was clearly and rightfully punishable by the Sovereign.

Thomas would not accept what she told him though. He was convinced that he was deprived of rights, personality and his consciousness.He spoke of a freedom that Alex could not understand because ingrained in her mind was the idea of freedom that entailed following the wants of the majority. She knew it was wrong to go against the will of the people.

"I'm going to help you," Thomas told her and raising his hands, there was a flash of light and Alex blacked out.



The next morning Alex woke up and went to Breakfast with her family unit same as always. At the announcements in the morning, Alex had a strange feeling in her stomach and a splitting headache. Today everything around her was brighter and she was seeing everything in a new way. Strangely, she could sense the differences between peoples' appearances.

This morning, the announcements revolved around Thomas. Steve shook his head, saying, "Thomas Smith and consequently his family unit were eliminated last night. He was caught running towards the limits of the city. He will no longer be an offense to the General Will."

As whenever someone has been eliminated, the people all said confidently, "To oppose the General Will is to be an enemy of the people." Except this morning, Alex couldn't bring herself to say it with the community. She had a strange memory in her head, and she wasn't sure if it was real or not.

Her thoughts shifted to Thomas. Last night, Alex woke up after blacking out, in the field off the side of the Recreational Activities Building, with Thomas standing over her. Her head pounded and the world was suddenly a different place, with different colors and distorted images. To her left lay a bloody blinking circle, and her leg burned with pain. Looking down, it was evident that the blinking circle had come from her leg. She could only assume he had removed the device that was keeping her and the rest of the community under the General Will.

"You won't be tracked or brainwashed anymore," Thomas whispered, and then ran away, leaving her in the synthetic grass that covered their town. There were sirens trailing after Thomas while he ran down the street.

She knew it was true then. Thomas Smith had been correct all along. Thomas, who entertained way too many conspiracy theories, wound up being the only one she could trust. The last thing he had said to her was that the General Will was manipulating society into submission and now Thomas had been pronounced dead. She still didn't completely understand what Thomas spoke about, all she knew was that Thomas was eliminated now and that something was being kept from her. She tried to reason with herself that he went against the law and that he was aware of the consequences of speaking out. As she continued trying to justify his murder by the Sovereign, a quiet voice in her head spoke up and told her that this situation was completely unjust.

This was the last straw. Now that it was confirmed and Thomas had shown her the truth, there was no going back. Three days ago, she wouldn't have thought twice about succumbing to the General Will of the people, but she felt obligated to speak up.

She ran to the Sovereign's office in protest, getting strange looks from all the people in the Town Center.

The Sovereign looked at her with a grim expression, "Thomas brought this upon himself. Independence like his cannot be tolerated in the formation of a whole being."

Leaving his office, Alex got the feeling that she was being watched. She realized that she shouldn't have said anything because now she was being monitored. With her new vision, she could see that the world she was living in was clearly corrupt and not the place she once knew. She began to run, but it was useless. She was being chased and she knew there was no escape. Heading to the roof, she made the conscious decision that she could not stand living this lie.

On the edge of the building, she thought of the sweet sound of music and Thomas and individuality and how much of her life she had been missing. She thought of the announcements they would make about her the next day, but she didn't care. Without looking back, she jumped.



THE END.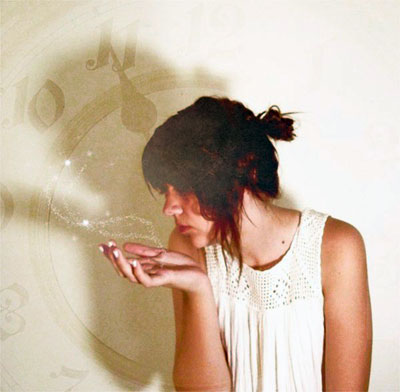 © Becca B., Groveport, OH