The One Before
July 22, 2011
"Graham, you have to go."

"Come on Dad, really? There is no way that I'm leaving. My life is here. I have Penny, and my job at the tavern. I'm settled here, I can't go chasing after some dream."

"Think of the opportunities that you could create for our family. We could be rich! Your mum could stop slaving around, washing pots and pans. Heck, we could all quit our jobs. We would be able to move out of this tiny cottage and into the royal palace," He put his arm around my shoulders and stretched his hand out in front of us. "Just close your eyes and imagine it." I shrugged his arm off me and stepped away from him.

"Da, do you know how many men have already tried and failed? They are all dead now, each and every one of them. And you want me to risk my life just for some maiden."

"Not for a maiden, for the family, for what our life would be like if you succeed." My mother peeked her head out from behind the kitchen door.

"Graham, honey, go," she said, leaning her cheek against the cold wood. "It's our only chance at being happy." The look in her eyes, it made my hands tremble. All she had ever done was work so that I could have a fair chance at life. It was time for me to give something back to her.

"Ok, Ma, I'll go, but only for you."
***

This princess, she had to be the most dull-witted maiden that ever lived. What was her name again? Oh, right, Briar Rose. Wow, she even had as stupid name. Her whole life she was warned never to touch a spindle. Her father even had all the spindles within a 20-mile radius removed from the land. And what does she do the first time she sees a spindle? She pricks her finger on it. I mean, how thick can you be?

The scratches on my face burned and blood spilled from the deep cut on my leg. The thorns were so dense that I couldn't take a one step without a spike snagging on my trousers. She better be pretty god d*** beautiful in order to deserve this much effort. Up ahead, I could see the gray wall of her tower, vines of ivy winding around it. I could make it. I could climb up the tower, kiss her, and it'd all be over with. I didn't even need the happily ever after. But just as that thought crossed my mind, a dark shadow loomed overhead.

It happened so fast. The sound of wings flapping, the feeling of wind rushing through my hair, and then heat, so much heat.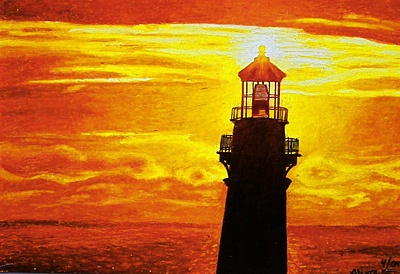 © Alyssa G., Charlotte, NC