Red Riding Hood
July 7, 2011
She comes by the night, as fluid and silent as a shadow drifting across the cold, winter plains. They don't know her name, but that doesn't stop her from infamy, the spectacular amount of gore she leaves in her wake has given her enough reputation for a new name. She's a bloody red scar across the pure, white snow. Her sing-song voice booms loud and clear, shattering the silence.

"Oh Mister Wolf,
Dear Mister wolf
Would You come out

to play?"

Her smile is wicked and she licks her ruby lips, eyes glinting emerald and auburn hair catching the cold breeze that accompanies her chant. The blood of her latest victim stains her satin cloak, the hood pulled over her head to hide her form. She leans back and sighs, her breath materializing as a mist before her bloody lips, almost like her spirit is being freed into the dead of the night.

Irony or poetic justice? She can't decide.

"It's been too long
I'm much too lonely
Won't you come and

play with me?"

She continues to walk, her eyes scanning the bare, white trees that hang and sway their boney limbs to and fro at the awakening gusts. She turns quickly, making a sharp left on the unmarked path that she takes and bellows her chant.

"I'm walking alone
Bet you can see
Won't you come and

mess around with me?"

There's a familiar shadow before her blood soaked feet, large and sinister. It seems Mister Wolf has decided to show himself once more. She smiles proudly to herself and curtsies, daintily and mannerly, before sliding a portion of her cloak to the side, pulling out three clogged and dribbling hearts. She throws them at the feet of the wolf and keeps her head bowed.

The man steps forward with polished heels, his eyes roaming the offerings. With a devilish smirk and hand's quick jerk they seem to bleed through the snow. He looks at his servant, so faithful and dedicated, and steps back into the darkness.

When She looked up she saw the torrential shadow of the wolf turn it's head and leave.

"Oh, Mister Wolf
Just who are you
And why do I feel

so wrong?

Mister Wolf
Your shadow so dark
Are you truly

and angel?

I serve you so faithful
And do so with pride
So answer me

dear Mister Wolf

When I come anew
When I ask you once more
Will you come out to play

again?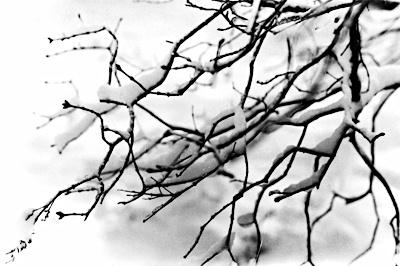 © Lindsey D., Marblehead, MA